State Reports
Find out more about health equity in your state
2020 State Reports
County Health Rankings & Roadmaps lifts up actionable data, evidence, guidance, and stories for communities to make it easier for people to be healthy in their neighborhoods, schools, and workplaces. Ranking the health of nearly every county in the nation, CHR&R illustrates what we currently know when it comes to what is keeping people healthy or making them sick and shows what we can do to create healthier places to live, learn, work, and play. CHR&R brings actionable data and strategies to communities working to ensure that healthy places are available to all. The 2020 state reports highlight how health outcomes and health factors differ by place within your state AND illustrates how health differs among racial/ethnic groups within places. Choose your state to the right and begin to explore the data for your state.
Moving with Data to Action
The Take Action to Improve Health section of our website helps communities join together to look at the many factors influencing health, select strategies that work, and make changes that can have a lasting impact. Take Action to Improve Health is a hub for information to help any community member or leader who wants to improve their community's health and foster health equity. You will find:
Interact with the Data
Image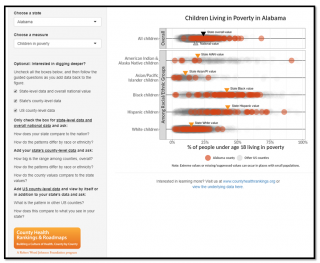 Explore the data to see differences and patterns in health across your state among racial and ethnic groups for three measures: children in poverty, percent low birthweight, and median household income.