Be in the Know: How Healthy is Your Congressional District?
There is one basic credo that we all share: we want the best outcome for the health and well-being of our families, friends and neighbors. Having a fair opportunity to be heard is critical for advancing health equity, and can shape decisions around the health and equity of our communities for years to come.
Did you know that you have the option to learn more about your community's health by overlaying congressional districts on top of the County Health Rankings health outcomes and health factors maps?
Image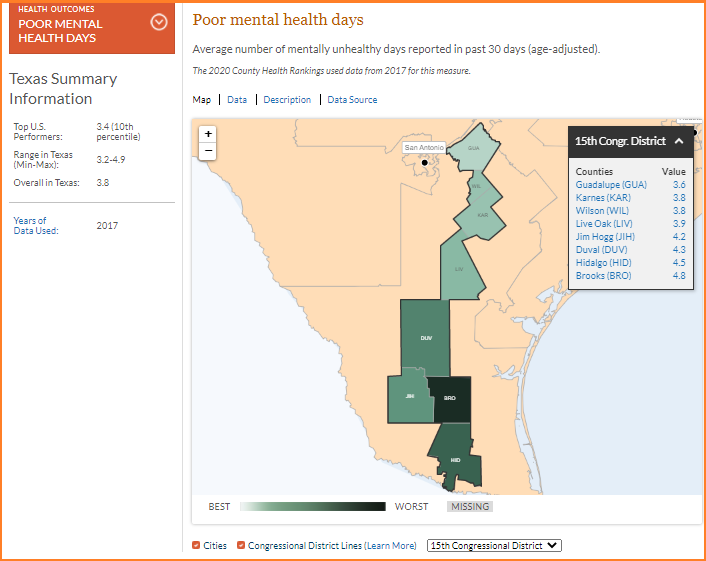 To use the congressional overlay feature:
Go to our Explore Health Rankings page: www.countyhealthrankings.org/explore-health/rankings
Enter your state into the search bar under "Find County Rankings" 
Once you've navigated to your state page, click on the "Congressional District Lines" checkbox at the bottom of your state's health factors and health outcomes maps to show the congressional districts for your state (pictured above)
Click on a specific congressional district and the map will highlight the selected district and show the counties associated with it. The ranks of the counties associated within that congressional district will also appear in a pop-up box in the upper righthand corner of the map, sorted by healthiest (lower numbers) to least healthy (higher numbers).
You can also use this feature to look at specific measures within a congressional district. 
From your state page, click on the "Measures" tab
From the dark orange drop-down box, select a specific measure that you want to dig into. 
(Note: maps and congressional overlays are available for all ranked measures, but not for additional measures.)
At the bottom of the map, click the "Congressional District Lines" checkbox
Click on a specific congressional district to see the counties within that district. Instead of the county rank appearing in the pop-up box in the upper righthand corner, the ranked measure data for the selected congressional district displays by county (pictured below).
The congressional district overlay feature can be a useful tool to identify geographic disparities and gaps in opportunity. Even though residents live and vote side-by-side, many congressional districts have both high- and low-ranking counties. As we know, health improvement in our communities only happens when we all work together, and data can collectively help us determine where it is most important to take action to meet everyone's needs.
Check out the congressional district overlay feature to learn more about how you can make the community where you live, learn, work, and play a healthier place for all residents!