Building narratives to advance health and racial equity
By Jonathan Heller, Marjory Givens, and Sheri Johnson
Until recently, the possibility of significant police reform in the US was remote. Most — though not all — saw the police as crucial in maintaining "law and order." Maybe they were unaware about the injustices in the system, or perhaps they thought that was the price for safety. The Black Lives Matter movement and the police killings of George Floyd and countless others have contributed to a collective shift in thinking and in the political and cultural landscape. An opening for change has emerged. 
That change in our thinking signals a change in the dominant narratives around policing and incarceration. Narratives are collections of deeply rooted stories in our collective consciousness that transmit values and ideas about how the world works. They provide explanations that either reproduce or upend current society. They are mostly unspoken and unconscious, woven into everyday life. For these reasons, they are a form of power. For many, previously dominant narratives that were fear-based and dehumanizing, for example viewing Black men as threats, have been replaced with more justice-oriented stories about the extensive harms of the current system and the dignity all people deserve.
Image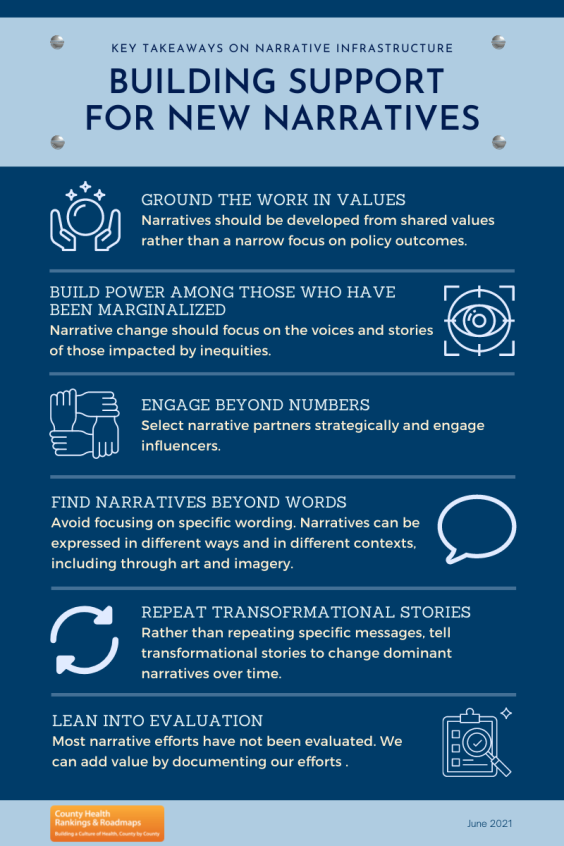 Advancing health equity reforms more broadly is such a struggle today because of the narratives that are dominant in society: stories about individual responsibility, scarcity, the limited role government should play, reliance on the free market, minimizing impacts of structural racism and other forms of oppression. Narratives are a form of power because they can limit what's possible. The people and institutions that shape those narratives wield tremendous power. Health equity advocates must learn to harness narrative power to achieve our goals. 
Yet, developing and advancing transformational narratives is anything but straightforward. To better explore the meaning of and possibilities for narrative change and discover how we could contribute to the infrastructure already working to advance health equity, we talked with five narrative experts: Olivia Araiza, Othering and Belonging Institute; Lori Dorfman, Berkeley Media Studies Group; Richard Hofrichter, retired from the National Association of City and County Health Officials; Dave Mann, retired from the Grassroots Policy Project; and Rinku Sen, Narrative Initiative. 
Our interviews revealed a lack of agreement and/or clarity among racial and health equity advocates about what narratives are — the term is used in myriad ways — and how to change them. While we recognize that this is complex, developing a common understanding of the power of narrative and aligning around strategy can accelerate equity-oriented change, particularly in this period of social upheaval and civic engagement.
We heard clearly that strategic communications differs from narrative change work. Many strategic communicators start with research — deep listening, news analysis, and/or opinion research —  and use that to transform content into precise, narrow, policy-specific messages and frames. An output is often a set of words to memorize and repeat when talking about an issue. While this is critical work, it is just one part of narrative change work given our definition of narrative above.
Several experts talked about narrative change as uplifting a different set of values and beliefs, helping people reimagine the world, and illuminating different paths. The narrative change process politicizes people; meaning it raises consciousness about societal problems, shared grievances, and power in terms of who is responsible and who can confront them. The narrative change process is therefore an organizing tool. In this way of thinking, narrative is embodied in our communications but also in our culture, in how we approach and carry out our work, and in the campaigns we choose to advance. Here, the goal of narrative work is deeper change.
Returning to policing, the social media, organizing, mass protests, trials, and media coverage fundamentally changed the way millions of people thought about policing and justice. It expressed a different set of values, such as dignity and inclusion. This is relational and strategic work; progress depends on deep engagement. For those who now see policing and the connection to racial inequity, it will never again be viewed as simply law and order.
We learned from our conversations that narrative change hasn't necessarily been a well-planned, step by step process. But Mann offered a map to grow our collective power to make lasting change. That process entails bringing a group of equity-minded people together to facilitate conversations about values and beliefs, and narrative power. It allows conversation on dominant narratives and how they stand in the way of change and how to deploy transformational narrative in our work. 
Over the next 18 months, County Health Rankings and Roadmaps is trying this out with partners in public health, health care, and community and economic development. Based on their roles in response and recovery to recent social, health, and economic events, these are the fields we believe will advance equity locally. We plan to use a train-the-facilitator model with the hope of having hundreds of people in these fields go through this process. After bringing conversations together, we will develop an overarching narrative to move toward alignment on narrative and with a new tool to advance equity.
Let's work together. To learn more about CHR&R's involvement in narrative infrastructure, or to share what you are doing, reach out: [email protected]
---
Jonathan Heller will be featured on CHR&R's June 15th's webinar, Transforming Narratives to Create Racial and Health Equity. Register here for the webinar and plan to attend the discussion group that will follow immediately after.