Go Beyond the Snapshot
After exploring your snapshot, you may be left with more questions, such as:
Who is experiencing the worst health outcomes in my county?
Are there neighborhoods that are experiencing particularly poor health?
What about health conditions or health factors not measured in the Rankings?
The County Health Rankings data offers a starting place for understanding health in your community. In most places, there are likely additional state and local data sources available that can help answer these additional questions you or your community might ask. There are additional resources available to help you understand, process, visualize, and share data from the County Health Rankings or other data sources to begin the process of moving towards action to improve health in your county.
Data disaggregation
Health factors and outcomes can differ by age, gender, race, ethnicity, ability, and sexual orientation among many other characteristics within counties. Differences can also exist from one neighborhood or ZIP code to the next. This section shows you how you could further disaggregate ranked County Health Rankings measures. 
Learn about options for disaggregation
Find more data
Many health factor and health outcome measures exist that we do not include in the County Health Rankings, either because they are not available across the nation or because they are unreliable. The Finding More Data section of this guide links you to national and state data sources where data has already been collected on other health measures.
Mortality and life expectancy calculator
This tool was developed by County Health Rankings & Roadmaps as a way to allow users to more actively engage with their own data. The goals of this tool are to:
Give users an easy-to-use template for calculating the same mortality metrics we use on our website, and 
Give advanced users a template for how to complete the background calculations needed for life expectancy.
Using the congressional district mapping feature
Image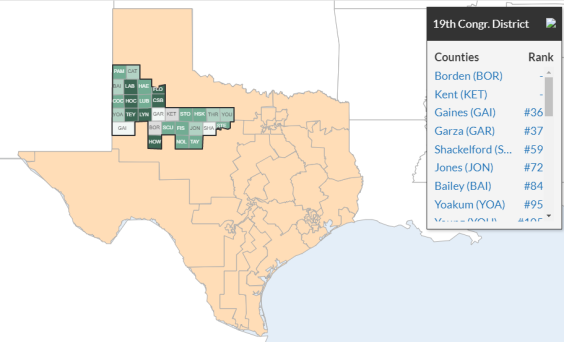 On each state page, users have the option to overlay congressional districts on top of the county health outcome and health factor maps. Selecting the option to add congressional districts will show the congressional districts for your state. If you then click on a specific congressional district, the map autozooms to the selected district and becomes transparent to show the counties associated with that congressional district. County-level data for each county within the district boundary can be explored. In addition, the ranks of the counties associated with that congressional district appear in the box.
Users can also use this feature on measure pages. Instead of the county rank appearing in the pop-up box, the measure data for the selected congressional district displays.
This information can be used to see how health differs within your congressional district. It can be useful to share with your representative or other residents in your congressional district in order to identify geographic disparities. Many congressional districts have both high- and low-ranking counties. This information can be useful to improve health for all by identifying areas of high need and/or determining where to prioritize funding.
If you need more guidance about which measures might be useful, visit our Assess Needs and Resources Action Step or contact us. Remember, you know your community best, so don't get buried in the mounds of data that exist. Improvement in community health happens when communities work together using many forms of data, including resident perspectives, to determine where it is most important to take action.