What Is Health?
Health is living long and well. It's where we live, work, learn, and play. It's opportunity—for all of us—to strive and thrive.
County Health Rankings Model
Image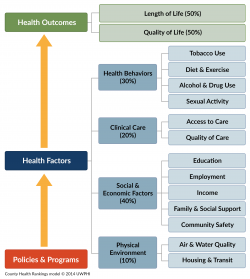 Health Is More Than Health Care
Health is more than what happens at the doctor's office. As illustrated in the model at right, a wide range of factors influence how long and how well we live from education and income to what we eat and how we move to the quality of our housing and the safety of our neighborhoods. For some people, the essential elements for a healthy life are readily available; for others, the opportunities for healthy choices are significantly limited.
Health Is For Everyone
County Health Rankings & Roadmaps, a program of the University of Wisconsin Population Health Institute, is working to improve health outcomes for all and to close the health gaps between those with the most and least opportunities for good health. This work is rooted in a deep belief in health equity, the idea that everyone has a fair and just opportunity to be as healthy as possible, regardless of race, ethnicity, gender, income, location, or any other factor.
Across the country there are significant differences in health outcomes, from one county to the next and among racial/ethnic groups. For example, Blacks, Native Americans and Hispanics have consistently faced barriers to opportunity and good health. Health disparities emerge when some individuals gain more than others—from consistently better access to opportunities and resources over the course of their lives. Increasing opportunities for everyone can reduce gaps in health. For example, providing better access to high-quality education and enrichment opportunities boosts workforce skills that are key to landing a good job and for upward economic mobility.
Health equity means that everyone has a fair and just opportunity to be as healthy as possible. This requires removing obstacles to health such as poverty and discrimination, and their consequences, including powerlessness and lack of access to good jobs with fair pay, quality education and housing, safe environments, and health care.
Health disparities are differences in health or in the key determinants of health, such as education, safe housing, and discrimination, which adversely affect marginalized or excluded groups.1
Image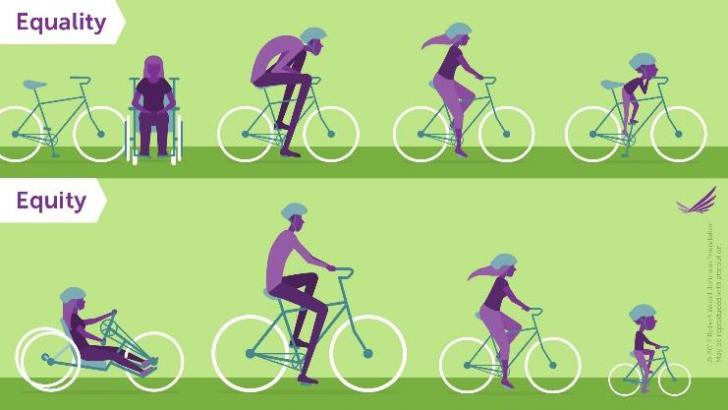 Health Takes All of Us
Improving community health takes partnerships, time, and commitment. It takes sustainable changes to policies and systems. It takes problem-solving and innovation. It takes all of us working together toward a shared goal. To address the breadth of health factors in the County Health Rankings model, we not only need people from public health and health care, but expertise from business, education, government, community members, and many more.
We want to live in a place where all people are treated fairly, where everyone has a voice in decisions that affect them, and where we all have a chance to succeed. And we know that positive change is possible. When communities have brought to life strategies to ensure safe drinking water, provide early childhood education, improve neighborhood safety, or reduce obesity, we have all benefited.
Health For All Is Our Vision
We want to be part of the solution. County Health Rankings & Roadmaps helps communities bring people together to look at the many factors that influence health, select strategies that can improve health for all, and make changes that will have a lasting impact. Here's how:
Data – Revealing the factors that influence health
By ranking the health of nearly every county in the nation, the County Health Rankings help communities understand what influences the health of residents and identify challenges and opportunities to improve these outcomes for all. The Rankings are guided by a model of population health that emphasizes the many social, economic, physical, clinical, and other factors that influence both how long and how well we live. They help communities understand the critical influence that education, jobs, income, environment, and more have on individual health and illuminate areas of need for focusing improvement efforts. Change takes time, and knowing where to start is the first step.
Evidence – Highlighting strategies that work
We help communities maximize their chances of success by identifying and sharing evidence-informed strategies that are shown to work in real life. What Works for Health provides evidence summaries for more than 400 policies, programs, and system changes that communities can use to guide their actions. The resource also rates strategies for their likelihood of reducing an opportunity gap—disparities linked to racial/ethnic, socioeconomic, geographic, or other characteristics. 
Guidance – Putting strategies into action
Our Action Center provides step-by-step guidance to help communities assess their needs, drive local policy and systems changes, and evaluate the impacts of their health improvement efforts. And our Partner Center helps change-makers in all sectors identify how they can connect and leverage their collective power when putting ideas into action.
Stories – Sharing real-world experiences
We elevate the compelling stories of local leaders and community members who are coming together to create conditions for health and prosperity by transforming neighborhoods, schools, and businesses—so that good health flourishes everywhere.
Citations
1. https://www.rwjf.org/en/library/research/2017/05/what-is-health-equity-.html