Digital Redlining
A digital disadvantage: Low broadband rates in urban, segregated pockets compound inequities  
Digital redlining has compounded issues facing residents of some of the country's most segregated counties. In places already experiencing poverty, unemployment and low high school completion rates, lack of high-speed internet access means residents have an even tougher time applying for jobs, accessing vital health care services or logging into a class. 
In many urban areas a cycle of disinvestment can be traced to redlining from the 1930s when the federal government created maps that reinforced segregation by rating typically Black and immigrant neighborhoods as risky real estate investments. This disinvestment continues today and has expanded to include digital redlining, which occurs when large network providers exclude low-income neighborhoods. Consequences for these disconnected communities, which are disproportionately made up of Black residents, impact the health and wellbeing of everyone living there. 
Over the last two decades, broadband has become a vital necessity. Although it is often discussed in the same breath as public utilities such as electricity, water and gas, availability is inconsistent across communities. Much like wide swaths of rural areas that lack high-speed internet, pockets of urban areas are also left behind. Segregated rural areas, such as tribal lands, and segregated urban areas in cities such as Milwaukee, St. Louis and Philadelphia are impacted. 
Disinvestment in Milwaukee leads to digital disadvantages
Milwaukee is one of the most segregated places in the country, according to the County Health Rankings & Roadmaps residential segregation index. Government and businesses have invested less in neighborhoods that span the northern and central part of this county of nearly 1 million, while those along the lakefront and in the suburbs thrive. 
The maps below highlight how this disinvestment has led to compounding inequities in some neighborhoods. CHR&R found that census tracts in Milwaukee where more than 1 in 4 households lack broadband are also largely composed of neighborhoods that were redlined nearly 100 years ago. These same neighborhoods also experience higher child poverty, lower homeownership rates, and fewer adults who have completed high school. A similar trend exists in highly segregated counties across the country. 
Issues resulting from disinvestment are well known to Milwaukee County officials, who are working to partner with organizations to address inequities.  
"We recognize the challenges we have in Milwaukee County are challenges that have existed for decades," said Aaron Hertzberg, Director of Administrative Services for Milwaukee County. "Even if we're able to increase broadband access, this is one tactic in a larger strategy of addressing human needs, wealth disparities, health disparities, and all sorts of other challenges that need to be addressed to truly help elevate people out of poverty."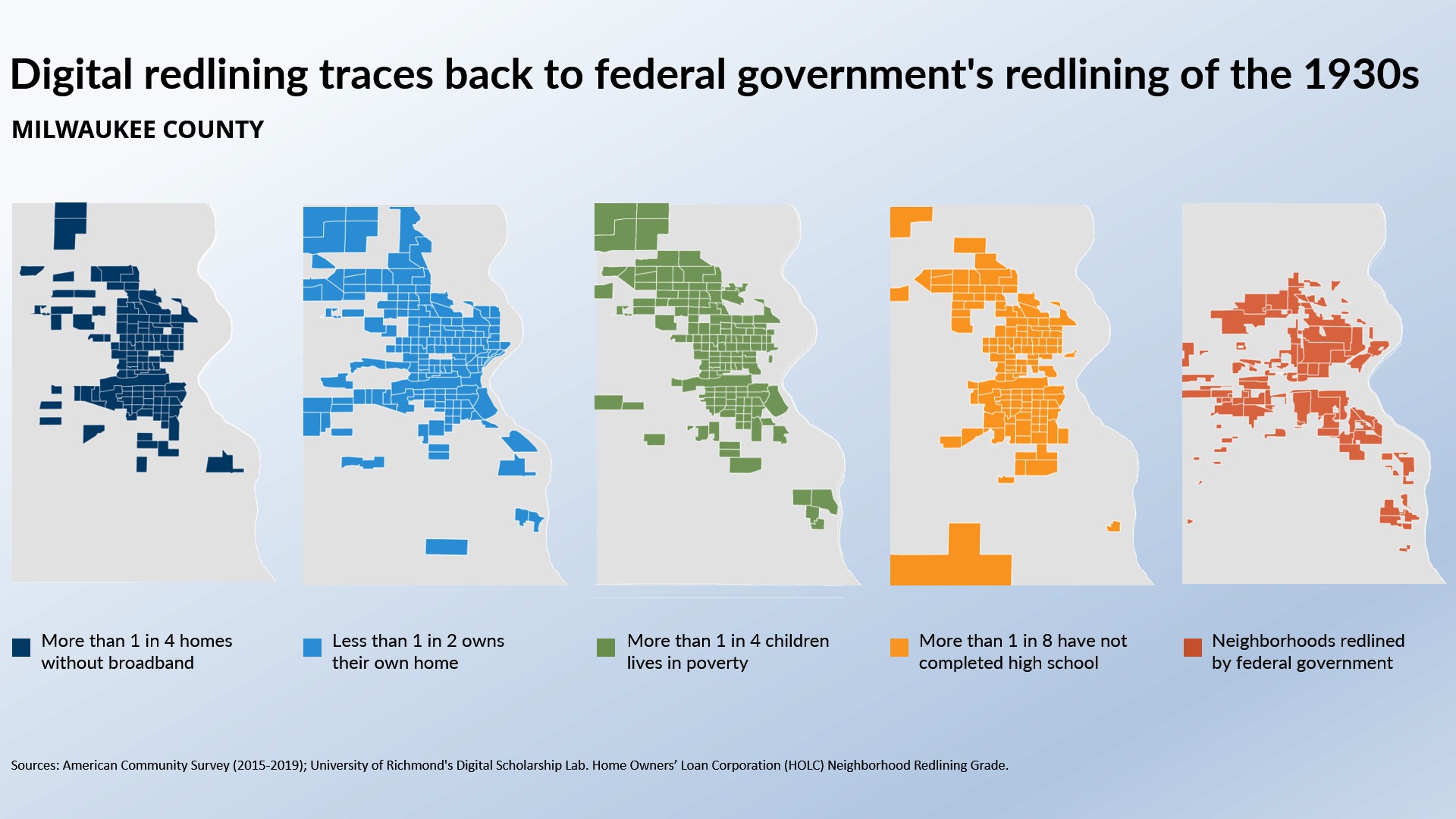 The compounding effects of digital redlining
Broadband provides high-speed internet access using fiber, wireless, cable, DSL, and satellite. As it grew during the 2000's, much of the conversation around lack of access focused on rural populations. While rural communities still lag behind their urban and suburban counterparts, rural connectivity has made gains since 2015. About 75% of rural households have connectivity, while an average of 79% are connected in the 10 most segregated urban counties. Pockets of rural and the most segregated urban areas experience far worse access. 
For segregated areas, limited internet access is another component of structural racism that compounds layers of historical and ongoing disadvantages. 
"I think this is another symptom of disinvestment in these communities that creates yet another barrier and increases disparities," said Kirsten Johnson, Commissioner of Health for the City of Milwaukee. "Internet access is a critical part of modern life if you think about things like health care, education, employment and banking. These are all deeply connected to social determinants of health, highlighting the importance of bridging the digital divide if we want to make our communities healthier." 
High-speed internet is necessary for many aspects of modern life such as remote work and schooling, telemedicine, online banking and connecting with family and friends. These have been exacerbated by the pandemic and the digital disadvantages are more profound when added on top of the other consequences of structural racism such as limited job opportunities, homeownership barriers and underfunded schools. 
Attaining broadband access is associated with improved health outcomes, including lower smoking rates and diabetes cases. Availability also increases access to health care via telemedicine, improves economic stability through opportunities for telework and job search opportunities, and increases food access with online grocery shopping.
Strategies to improve access show promise
Broadband access doesn't always result in use, especially for older residents and those with lower incomes. Studies have shown improvements when communities provide low-cost internet along with low-cost computers and training. 
Research has also shown that state funding programs improve broadband availability while local restrictions create barriers. Removing state laws that create barriers to municipal broadband and other lower-cost options may also increase access in rural and urban communities. Public-private broadband partnerships have demonstrated effectiveness at lowering prices. 
Find more resources on strategies to expand broadband coverage here: