United Way of Greater Atlanta: Data-Driven Partnerships to Increase Access to Health Care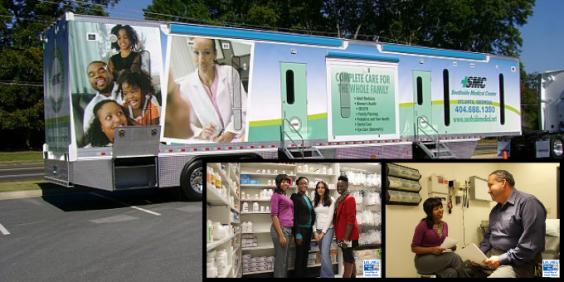 In a community as large and diverse as Atlanta, the County Health Rankings are a valuable source of data that helps to inform the work of local organizations, including United Way of Greater Atlanta.
"The County Health Rankings have been helpful for our efforts because our footprint encompasses 13 counties. The Rankings allow us to tell each community story in a way that makes sense. Counties may have similar issues, but they look different in each county. The Rankings underscore the need and importance of local solutions," Mary Spanburgh, Senior Director of Health for United Way of Greater Atlanta, said.
The United Way of Greater Atlanta staff actively engaged community members – coordinating forums, inviting key influencers and residents in each county to forums, and then working alongside them to develop and implement solutions. All of this work at the very beginning helped set the stage to improve health and identify the particular needs around increasing access to health care and reducing unnecessary emergency room visits for each county.
Expanding Health Care Access
Combining advocacy and effective programs, United Way is working to comprehensively address community health goals and ensure access to quality care for all residents.
"We bring sectors and stakeholders together. When our volunteers come to us with a need for a specific community, our sweet spot is engaging and bringing together the people and the resources to solve them," Spanburgh said.
A strong example of the organization bringing different community groups together for greater impact is how they were able to bring a low cost health center to Butts County. Before the center's opening, Butts County residents had access to just a few primary care/family practice physicians. After exploring the Rankings data, it was discovered that Butts was the lowest ranked in the 13-county region. Next, the community in Butts County collaborated with United Way to provide a state-of-the-art medical mobile unit to provide primary care to its residents. The unit provided services twice a week for two years, serving around 500 patients annually
Still, more was needed and eventually in March 2014 the community welcomed a permanent health center – forever changing the Culture of Health in Butts County.
Improving the Health of Children
Data-driven decisions are important to United Way of Greater Atlanta. Data helps inform the organization's priorities. For example, the organization focused on increasing utilization of the Children's Health Insurance Program – known as PeachCare in the state of Georgia – mainly because the data indicated it was an area that needed improvement.
PeachCare "is a resource readily available to families. However, based on the rate of eligible children enrolled, it appeared that the community was not aware of the resource. We felt strongly that this program could have a positive impact on children's health," Spanburgh said. As a result, an outreach and enrollment campaign targeted to schools and child care centers was launched to enroll children in PeachCare.
The Healthy Beginnings program is another United Way partnership. Collaborating with the early learning center Educare, United Way provides a health navigator on site to connect children and families with insurance and a medical home. The early learning centers conduct health assessments for each child and family, and then, the health navigator connects children to related and necessary services. Since its beginning, 98 percent of children enrolled in the program have had an annual visit with a primary care provider, and 97 percent have received insurance benefits.
Assisting the Underserved
Choose Health is a partnership between the United Way, the largest safety net hospital in Atlanta, and four federally qualified health centers (FQHCs). United Way provided funding to the hospital and FQHCs to hire Community Health Workers (CHWs) that help connect patients with a medical home, thereby improving their health and reducing the number of unnecessary hospitalizations and ER visits. The CHWs provide in-home visitation and health education to those who frequent the hospital. Data shows large drops in re-admissions to the hospital and in ER visits by program participants.
United Way's Project Health Access places AmeriCorps members in free clinics to help with non-clinical functions, like organizing prescription assistance programs and enrolling patients in applicable benefit programs such as disability insurance or PeachCare.
According to Spanburgh, "Project Health Access is a great value-add to the community. Even though we have a large network of clinics serving low-income families, many are at capacity. Giving clinics dedicated staff for a full year gives them additional capacity to see more patients, develop higher quality services, and create new programs."