Just Waiting to Be Asked: The Beaverton Clinic Story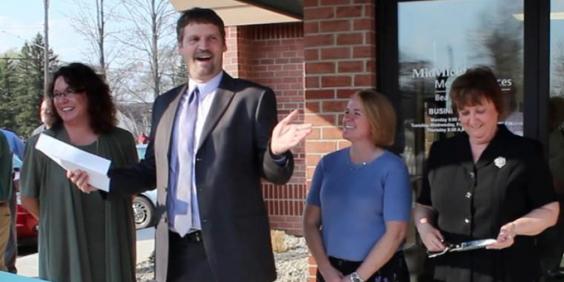 Adolph Presidio is a tough, resilient 93 year old with ongoing health concerns. His 20 mile monthly drive to the clinic in Harrison, MI from his rural home in Beaverton was both wearing and a cause for concern given Michigan's harsh winters of snow and ice. But as of March 2012, Adolf now only has to drive five minutes to the Beaverton Clinic. The clinic's birth is a story of what can be realized when the right group of people comes together with the right information.  When it comes down to it, says Mary Kushion, Health Officer of Central MI Public Health Department, "People were just waiting to be asked to help."
It all started when Mary invited a diverse group of community leaders and members to a Summit in March of 2010 to review the County Health Rankings data for Clare and Gladwin counties. At that time, Clare ranked last at 82 and Gladwin was ranked 76. Access to health care has been a long standing issue for both communities.  Clare County only has 10 primary care physicians caring for its 31,000 residents. Gladwin County has only 5 primary care physicians caring for its nearly 26,000 residents.  Access to timely and effective primary health care is a key component to a community's overall health and well-being.   Having sufficient availability of primary care physicians is essential so that people can get preventive and primary care, and when needed, referrals to appropriate specialty care.
It was at the Summit that Paul Cronstrom, Program Director, Central MI Health Resources and Darrell Milner, Executive Director of Mid-Michigan Community Health Services, first met. "I'd fallen in love with the community health center model over 40 years ago," says Darrell, "and had successful experiences getting these going in places like Houghton Lake."  Paul's lifelong dream was to integrate mental health services with primary health care; he believed in the power of collaboration, having always worked through community partnerships. Together they discovered they shared a passion and desire to improve health conditions in mid-Michigan, and agreed they could write a strong proposal for an FQHC in Beaverton. The next step was to involve Ray Stover, CEO of Mid-Michigan Medical Center-Gladwin. Because of Houghton Lake's success, Ray readily agreed to work with Darrell when he called. "Our Board was supportive to begin with," says Ray. "I didn't oversell it, but we knew having better healthcare in Beaverton could help the community grow economically since it would attract jobs." 
Darrell, Paul and Ray invited Beaverton area business leaders, the Mayor and others to form an advisory group, and that group's strong support, together with Mary Kushion's credibility as a public health leader, were key to convincing Mid-Michigan's Board to support the Beaverton Clinic's development. The advisory group applied for Federally Qualified Health Center (FQHC) funding in the first part of 2011, and knew their application was solid: Their data demonstrated a strong need, their proposal was detailed and well vetted, and their letters of support demonstrated a broad coalition of diverse stakeholders. But in August of 2011 they received the news that their application for FQHC status hadn't been funded—nor had any Michigan sites-- due to massive state budget cuts.
"It was definitely a low point when I had to tell the Board," recalls Ray. "We spent two weeks talking about it." In the final analysis, however, Mid-Michigan decided to proceed with building the clinic "because it was the right thing to do" says Ray. Ray wrote to the advisory group, telling them that lack of federal funding "does not impact our excitement to break ground on the new facility in September!  Nor does it change our commitment to provide high quality health services to the Beaverton community, including the low-income and the medically underserved. We will still offer a medical care discount based on family size and income."
Plans for building the clinic proceeded, with ground first broken in September 2011. The Beaverton Clinic opened its doors in March 2012, staffed by nurses, nurse practitioners, social workers, and mental health counselors.  
In July 2012 FQHC status was finally approved, making Beaverton one of the only rural communities in Michigan to receive funding.
Ahead of schedule, a doctor joined the staff in December of 2012. Physical and occupational therapists will be added as time goes on. The clinic has seen over 700 patients since it first opened, and success stories abound, including one resident who credits the clinic with helping her reduce her blood pressure and another who can better ambulate and hear. And of course, Adolph is now only five minutes away from visits with his doctor.
For Darrell Milner, the Beaverton Clinic is the fulfillment of a dream. For Ray Stover, the rewards are in hearing daily how fortunate the community feels to have the clinic. Paul Cronstrom, who will soon retire, is leaving a legacy. A mountain climber when he's not working, he says the Beaverton Clinic is "the tangible reality—the summit—of what I've been working toward for so long." And all they needed was to be asked.