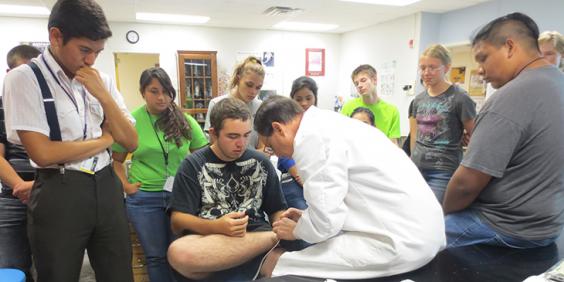 A severe shortage of primary care physicians in four rural southwestern New Mexico counties spurred the initiation of FORWARD NM's Pathways to Health Careers program. The workforce pipeline program aims to increase the number of rural health care providers by building interest in rural health care work and providing programmatic, educational, and experiential learning opportunities in the field. Its efforts target middle and high school students, undergraduates, graduate students, medical students, and medical residents.
The program has reached more than 6,000 school-aged children and provides 70+ rural rotation opportunities each year for medical, dental, and behavioral health students.
Learn more about FORWARD NM's Pathways to Health Careers program and its work to recruit and retain rural health care providers by visiting the Rural Health Information Hub (RHIhub) summary of the project. If you have specific questions about the program, contact Charlie Alfero, Executive Director of the Southwest Center for Health Innovation, at [email protected], or by phone at (575) 534-0101.
Communities in Action provide examples of strategies or tools in action. Their purpose is to connect like-minded communities in their implementation efforts, giving insight into how others are tackling key challenges and what they've accomplished. To learn more about the evidence supporting this strategy's effectiveness or resources to help move towards implementation, see the What Works for Health summary of Rural training in medical education.
Date added: October 15, 2015