Developing Youth Leadership in New York City Schools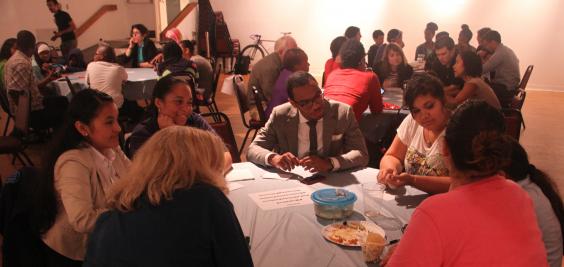 In response to concerning data about suspensions and arrests in New York City schools, the Dignity in Schools Campaign-New York (DSC-NY), along with its partners at area schools, launched a campaign to build student leadership capacity. The campaign's focus was to promote positive interventions in order to reduce suspensions and other discipline incidents in schools.
In the 2010-2011 school year, there were more than 73,000 suspensions citywide, and students of color were suspended at higher rates than their peers. "Our goal as a campaign was to focus not only on the problem, but also, on the solution," Shoshi Doza, DSC-NY Coordinator, said. "We wanted to find solutions that created a safe and nurturing school environment."
To find those solutions, DSC-NY looked to restorative justice and leadership development strategies—such as conflict resolution, peer mediation, and peer mentoring—that offered participatory approaches to discipline reform at both the school and city level. Their work focused on building a sense of school community by empowering leadership, decision-making, and accountability among all stakeholders in the school, including students.
DSC-NY started work in 2010 at the Bushwick Campus in Brooklyn, where DSC-NY member group Make the Road New York selected and trained student leaders to serve on a conflict resolution team. The team developed a five-week workshop series to train other students. "Conflict resolution training focuses on how to de-escalate a situation and how to manage your own approach to it," explained Liz Sullivan-Yuknis, Human Right to Education Program Director at the National Economic and Social Rights Initiative (NESRI), a member of the DSC-NY coalition. "It's about helping students recognize that conflict is a regular part of life, and their role is how they respond to it."
With help from DSC-NY member group Teachers Unite, the Lyons Community School, also in Brooklyn, established a system to train student leaders as members of a justice panel. The panel follows the restorative fairness committee model and includes a rotating group of twelve students and a teacher advisor. The panel meets with students during open hours or by teacher referral to discuss and recommend solutions for school disciplinary incidents. The Lyons School has also expanded its positive interventions to promote student leadership in different ways, including through peer mentoring and peer mediation.
Kesi Foster, Coordinator for the Urban Youth Collaborative—a coalition of community-based youth-led organizing groups and a member of DSC-NY—works with many youth organizers from Black and Latina/o communities across the city. "We're developing awareness and teaching tools to help these students navigate systems through interactions with other youth and adults," Foster explained. Participants gain valuable leadership experience through collaboratively devising strategies and through advocacy and public speaking activities, and they develop skills in analyzing systems, problem solving, and communicating in a peer-to-peer intergenerational environment.
The campaign now works with partners in more than a dozen schools across the city and has led successful citywide advocacy campaigns to revise the NYC Discipline Code and increase training and support for restorative justice. Recent data shows school suspensions decreased 27% citywide over the last three years. At the Lyons school, for example, suspensions have consistently fallen each year. Student and teacher leaders are also using their experience and skills outside of the school community. "Peer mediator leaders [from schools across the city] are participating in city-level hearings and press conferences," Sullivan-Yuknis said, noting that students are part of the solution in their schools and citywide.
While challenges to making change throughout the larger school system remain, Doza points to a shift in school culture as the blueprint for future success. "Leadership structures create a voice for the student body in shaping policy," she said.
To reach Shoshi Doza, email [email protected]. To learn more and to read case studies about the work happening in local partner schools, visit http://www.dignityinschools.org/dsc-ny. To view Growing Fairness, a documentary and toolkit about restorative justice by DSC-NY member Teachers Unite, visit http://www.teachersunite.net/growingfairness.
Communities in Action provide examples of strategies or tools in action. Their purpose is to connect like-minded communities in their implementation efforts, giving insight into how others are tackling key challenges and what they've accomplished.
Date added: September 15, 2015