BUILD Organizes to Renovate Baltimore Schools
In the spring of 2013, the Maryland legislature passed an unprecedented $1.1 billion financing plan to rebuild and renovate Baltimore schools. Baltimoreans United In Leadership Development (BUILD) organized with Child First (a school-based organizing initiative founded by BUILD), Maryland Industrial Areas Foundation (MD IAF) and the Baltimore Education Coalition (BEC) to rally the community around this single focus and achieve a huge win for Baltimore schools.   
How were they able to accomplish this?
"We all knew about the deplorable conditions of schools," said Rob English, lead organizer at BUILD. Baltimore's kids went to schools with ceiling tiles falling down, flooding, boilers that overheated some classrooms while rooms across the hall were freezing, and kids wore coats and mittens in class. There was a lot of talk but no large scale investments to fix the problem. As English said, "You know what keeps you up at night, but how do you act on that?"
First, you lead with people. Having a policy to advocate for matters, but that doesn't win alone. Policy change starts with people. BUILD members visited schools to see the conditions firsthand. They met with parents one-on-one, listened to their stories, and responded -- listening requires a response, not a solution, said English. "When we hear a problem, we want to fix it." Instead, they asked parents, "How does it make you feel to know your kids are going to school in these conditions? What do you want to do?" Then they challenged parents to partner with BUILD and Child First to conduct a ten-school facilities audit. Before this, the parents felt powerless. Now they were taking action; they were using their power. This led to 300 organized parents calling on the schools' CEO to repair buildings.
BUILD and Child First won $2.8 million in improvements. But Baltimore Schools had a $2.8 BILLION need. They needed more power, and more people. They co-founded the BEC, now comprised of 26 school organizations, to organize more people. "One teacher was ashamed that she thought her school was in fair condition until we took her on a tour of the basement where literally water was spewing out of the tiles and the walls were covered in mold. She ended up co-chairing the BEC."
Image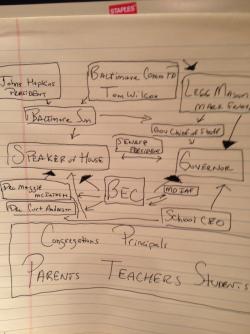 Organizing is first about building relationships. It is the most important part of creating change. Unfortunately, it's the most talked about and the least used.  BUILD started with the community. It went school by school, met with people, did a power analysis to see how the community was organized, and learned who the informal leaders were. It identified the leaders that already existed in the community. English said, "I can't organize a community. I can only reorganize it through others. Through leaders, we built teams of families, teachers, and principals. Many times, you will find there are only a few real leaders. So we helped train and develop others to become leaders."  
Once group members had a strong base – they organized across sectors, conducting the same power analysis with the philanthropic community, corporate leaders and elected officials at the city and state level. They united Baltimore around one goal: Build Schools. Build Baltimore. They went to the state capital every week, over and over again, bringing as many as 3000 people to the front steps. 
They called every City Council member and invited them to sit in a classroom during the school day. Only one showed up. He saw with his own eyes the thermometer, the teacher and children struggling. That Councilman became a champion for new schools.
They took parents and teachers on a tour of the best schools they could find to help them imagine what could be. Every time they went to educate lawmakers and one of them said it was not so bad, a parent would ask, "Have you been to the schools in Montgomery County, the most affluent school district? Our children deserve no less."
How was BUILD and Child First so successful? They started with people. They listened, responded, developed relationships, and developed leaders. "If you're trying to engage people and it's not in their experience, you're going to lose," said English. But BUILD knows that all victories begin with listening to, and then organizing people to press for change.
Click here to learn more about BUILD, watch the Organizing for Policy Change webinar featuring Rob English, or contact BUILD at [email protected]. 
Communities in Action provide examples of strategies or tools in action. Their purpose is to connect like-minded communities in their implementation efforts, giving insight into how others are tackling key challenges and what they've accomplished. 
Date added: March 26, 2014