2020-2021 RWJF Culture of Health Prize Winners Announced
Today the Robert Wood Johnson Foundation (RWJF) announced the 10 communities chosen to receive the 2020-2021 RWJF Culture of Health Prize. The Prize honors communities at the forefront of advancing health, opportunity, and equity for all.
Image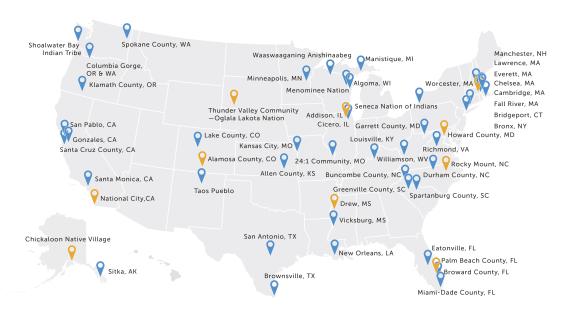 The 2020-2021 Prize winners are:
Addison, Illinois
Alamosa County, Colorado
Chickaloon Native Village
Drew, Mississippi
Howard County, Maryland
National City, California
Palm Beach County, Florida
Rocky Mount, North Carolina
Thunder Valley Community — Oglala Lakota Nation (Oceti Sakowin Territory) 
Worcester, Massachusetts
"The 2020-2021 RWJF Culture of Health Prize winners are striving to make good health and well-being achievable for all their residents," said Richard Besser, MD, president and CEO of RWJF. "They understand the clear connection between the opportunity for health and education, jobs and housing. They are leaning into community-led solutions that break down barriers caused by structural racism and other forms of discrimination."
To become a Prize winner, communities demonstrated how their efforts reflect six criteria:
Defining health in the broadest possible terms.
Committing to sustainable systems changes and policy-oriented long-term solutions. 
Creating conditions that give everyone a fair and just opportunity to reach their best possible health.  
Maximizing the collective power of leaders, partners and community members. 
Securing and making the most of available resources.
Measuring and sharing progress and results.
Each winner will receive a $25,000 prize, join a growing network of Prize-winning communities and have their accomplishments shared to inspire other communities across the country.
Prize communities share a commitment to investing in solutions and coordinated steps to usher in lasting change.
Prize Celebration and Learning Event
The Foundation will honor this year's winners November 9-10 during a virtual RWJF Culture of Health Prize Celebration and Learning Event. Representatives from the Prize communities will talk through ways they leverage their strengths and bring partners together to expand opportunity. The 10 new winners will also connect with 44 fellow Prize Alumni communities.
Please join the 2020-2021 RWJF Culture of Health Prize Award Ceremony and Prize Winner Conversations on 1:15 pm - 4:30 pm ET on Tuesday, November 9. The event will be broadcast live at www.rwjf.org/Prize.
Learn more about this year's winners and see videos, photos, and more at www.rwjf.org/Prize.