By Josh Miller
Guest Contributor
Earlier this summer, the Aspen Institute's annual Aspen Ideas Festival kicked off with Spotlight Health – a three day conference highlighted by keynote speakers, one-on-one interviews, interactive sessions and panel discussions, all contributing to an on-going conversation around improving health. Spotlight Health brings together leaders from all disciplines to share stories, experiences, innovations and ideas for combatting our world's greatest health challenges.
Image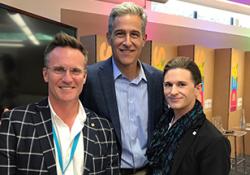 "The future of health is transdisciplinary," said Josh Miller, COO and Co-Founder of IDEAS xLab in Louisville, KY, who attended the conference. "When we think about health as something created where people live, work, worship, learn and play – it takes people from all disciplines – economists, healthcare professionals, corporate executives, artists and cultural producers, policy makers, and others to create holistic solutions."  
This year, 2016 Culture of Health Prize winning community, Louisville, Kentucky, was invited to attend the festival and present an exhibit of work from IDEAS xLab's Project HEAL (Health. Equity. Art. Learning.) – a 3-year framework enabling artists and cultural producers to create a portfolio of contemporary policy initiatives with community members to shape health equity. Since receiving the Prize and sharing their story throughout the country, Louisville has also connected with fellow Prize communities New Orleans, Louisiana and Buncombe County, North Carolina who are working to launch Project HEAL in their own communities in 2018.  
To learn more about the Aspen Ideas Festival, and to view discussions and panels held at Spotlight Health, check out:
To find out more about becoming a Culture of Health Prize community, check out: