Salud America's! new online tool, the Salud Report Card,  allows users to select their county and get customized data on food access, physical activity, and equity issues compared to their state and nation. This resource uses data from a number of resources including the  County Health Rankings.
The Salud Report Card highlights health factors like obesity rates, physical activity, primary care access, and child poverty rates—all health measures that often disproportionately affect the Latino population. The tool also compares measures of health outcomes and opportunities to be healthy between Latinos and non-Latinos and offers a map of where populations may be particularly vulnerable. In addition to the data, the report card also points users to local community resources and provides a forum for engaging in dialogue and moving to action to support healthy policy and environmental changes.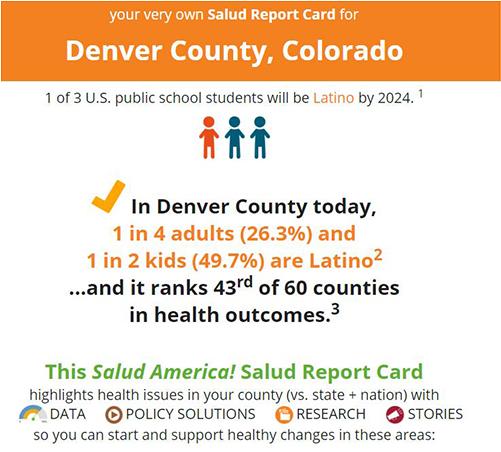 Example from Denver CO
Last Wednesday, Salud America! hosted a webinar to walk users through the tool and answer questions. Check it out here: https://vimeo.com/185991371
Visit Salud America! at http://www.communitycommons.org/groups/salud-america/ and follow the organization on social media via its @SaludToday handle on Twitter, Facebook, YouTube, and WordPress.