Community Learning & Guidance
Image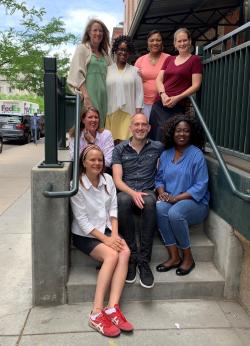 Action Learning Coaches facilitate peer learning and provide guidance to individuals and teams that are working with their communities to improve health outcomes and advance equity. Coaches can help navigate the many resources available from County Health Rankings & Roadmaps and regularly work with communities on moving from data to action. Learn more about the different self-directed and peer-to-peer resources. Contact us if you'd like help understanding which ones might be best for you.
Self-Directed Learning Resources
The County Health Rankings show us that where we live matters and health is more than healthcare. They are based on the many factors that, if improved, can help make communities healthier places to live, learn, work, and play.
What Works for Health provides a menu of evidence-informed policies and programs that you can explore to see what might be a good fit for your community's priorities.
In the Action Center, you can explore ways to move your community forward from data to action. You'll find step-by-step guidance and tools to help you through the community change process.
Action Learning Guides help to deepen your learning on select topics, with a self-paced, interactive blend of guidance, tools, and hands-on activities.
The Partner Center shows how we all have a role to play in creating healthier communities. By working together we can achieve more than working alone. Learn more about finding and engaging partners in your community.
The RWJF Culture of Health Prize honors and elevates communities that understand health is a shared value and everyone has a role to play in driving change.
Learn From and With Others
County Health Rankings & Roadmaps Action Learning Coaches regularly work with individuals and groups across the country to design and convene virtual and in-person peer learning opportunities:
National webinars showcase promising approaches and real-world examples on a range of topics. Post-webinar discussions allow attendees to continue the conversation in virtual, small-group settings.
Peer-to-peer virtual learning offers a way to directly connect with and seek guidance from others around the country and to discuss what works from your own perspective. Contact us for more information.
Group-based action learning brings together teams from multiple communities in a structured format for problem-solving, critical thinking, and mobilization on a common topic or approach. Contact us for more information.
To learn more about resources that may help your community, contact us.