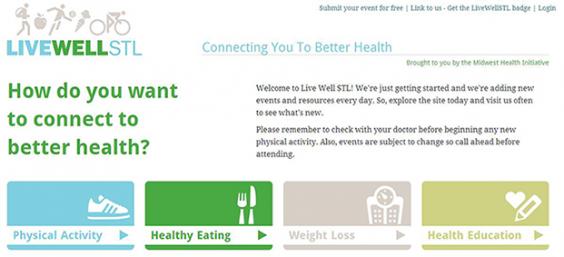 After a community needs assessment revealed that St. Louis should be focused on reducing obesity, weight management, physical activity, access to health food, and chronic illnesses that result from obesity, the St. Louis Area Business Health Coalition (STLBHC)  and the Midwest Health Initiative created LiveWellSTL.org. LiveWellSTL.org is an interactive website that connects users to activities, events and resources that can help residents begin to address many of these challenges. 
Launched in spring 2014, community members can find over 2,500 unique listings in a range of areas from physical activity, healthy eating, weight loss and health education contributed by a variety of different organizations. Regularly updated, organizations use an online submission form to contribute their information directly to the website which is searchable by date and time, target audience, location, and other preferences. To ensure users get an experience completely tailored to their specific interests, the program will send LiveWellSTL e-newsletters weekly to interested parties. 
On June 1, 2014, the website unveiled a "badge" that employers can embed in their webpages, thus connecting their employees directly to this valuable directory. Mary Jo Condon, Senior Director of Partnerships and Projects at STLBHC, believes employers want to help their employees prioritize their health and find ways to fit exercise into their busy schedules. "This site is beneficial because employers have tried to be engaged in the health of their employees for a long time, but it's been challenging to address the many broad and varied interests employees have. By adding a badge to their website, employers empower employees to find the things that work best for them," says Condon. 
Condon says businesses understand that "multi-stakeholder approaches get the most bang for your effort" and having all these resources in one place is helpful. Condon believes the business community has a role to play in community health. Healthier communities have productive employees, children prepared to learn and become productive adults, and lower healthcare costs. Conversely, unhealthy communities often have increased health care costs, decreased productivity, higher taxes, and high unemployment. 
Interest is growing in LiveWellSTL as a conduit of key community events and activities promoting better health, and STLBHC believes they will be most successful when they see a high volume of people leaving the site to visit these resources. Their goal, unlike the goal of most organizations, is to connect people to the information and resources they need quickly so they can begin to transform their health.