PART I: Empowering the Grassroots in Holmes County, MS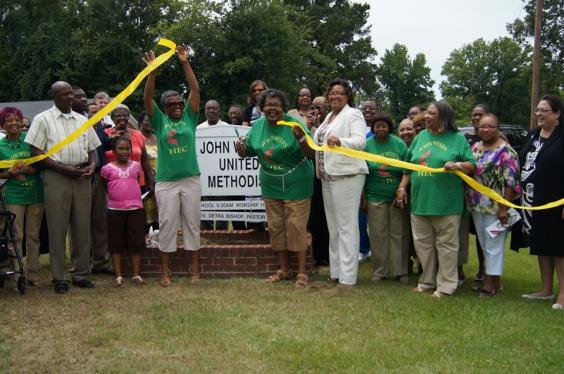 When Dr. Detra Bishop, Pastor, pulled into the John Wesley United Methodist Church parking lot in the middle of the week she couldn't believe her eyes: it was packed. Inside she found elderly church goers having their blood pressure taken at health stations; Miss Agnes, the Health Education Center (HEC) Coordinator, talking excitedly on the office phone; LaSonya in her walker working steadily at the  computer; while Miss Margaret  prepared lunch for all. The HEC office had been set up for the first time the previous week, and now the place was humming like a bee hive.
The church is located in mid-eastern Holmes County, bordering Big Black River, in the Mississippi Delta.  It is home to an aging population and now, a beautiful new Health Education Center, thanks to the efforts of the Greenwood District United Methodist Church Health Alliance (GDUMCHA—or "HA" for short), a multi-sector, faith-led team that is inspiring people on the grassroots level to improve the health situation in not only Holmes County, but all Greenwood District counties.
Before HA came together the elderly women of John Wesley United Methodist Church had been sitting at home alone, doing nothing. Now they have a purpose. Not only are they staffing the HEC, but to raise funds for the church's ministry, they plan to make lap quilts to sell. "When we have a purpose, we are motivated to work," states Dr. Bishop.
More opportunities for grassroots engagement are in the works.  Dr. Bishop will lead a five-week course on the five dimensions of health (physical, mental, social, emotional, and spiritual), one of the church members has started a quilting club, exercises are being led weekly by a former PE teacher, and a healthy fellowship meal for the community is scheduled once a month.
HA's vision is that the 106 churches in Greenwood District's 11-county area will become places to experience health. The HEC at John Wesley UM Church, proudly proclaims Dr. Bishop, "is our first baby; it's just the beginning."