Making Changes by Focusing on What Works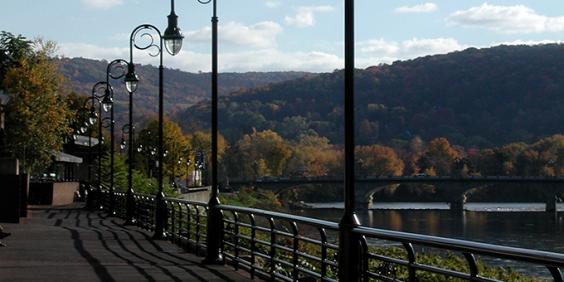 For county health officers, sometimes raising awareness isn't enough. To make lasting change, focusing on programs and initiatives that are proven to be successful in implementation and enforcement will go a long way to making something stick. That's been the goal in Broome County, N.Y., which most recently was 48th out of the state's 62 counties in the most recent County Health Rankings.
"We're taking small steps, but it's happening," said Mary McFadden, senior public health educator with the Broome County Health Department.
The department focused on key initiatives, such as breast feeding policies, community gardens, engaging the agricultural community, fall risk prevention and more, such as:
Complete Streets: The officers worked with the largest municipality in the county, Binghamton, to institute a Complete Streets program. The initiative focused on streets that can safely facilitate biking, walking and public transportation in addition to car traffic. Binghamton is one of fewer than 40 municipalities in New York with Complete Streets policies.
Sodium reduction: Partnering with the cross-county school system, this program leveraged the combined purchasing power of 15 school districts to prompt a food vendor to boost nutritional content. Lower sodium content, sugar, fat and calories were the results. A similar effort led to increased nutrition from the vendor serving the area's jails and nursing homes.
Breakfast at school: In one of the county's school districts, 72 percent of an elementary school's students were eligible for free or reduced-price lunch yet less than half were participating in the school breakfast program. To that end the Broome County Strategic Alliance for Health created the Patriot Breakfast Program, focusing on educating about the benefits to students. The program started with four second-grade classrooms and expanding to all grades. Participation in school breakfast rose from 43 percent to 88 percent in two years' time.
Smoke-free housing: Working with the owners of a high-rise, low-income housing complex the department helped usher in a commitment for 250 smoke-free units for families – and a goal of 400 by the end of next year. Surveys of tenants and education missions helped allay fears and demonstrate the need for such housing. "The message is getting out there," said Broome County Health Department Director Claudia Edwards. Many states, such as New York, have smoke-free housing resources, and the Broome program follows successful work to designate smoking restrictions at public parks, playgrounds and pools.
Learn more
What to know about these strategies? Visit What Works For Health for information on these programs and more: