Health Department Engages Its Neighbors to Improve Health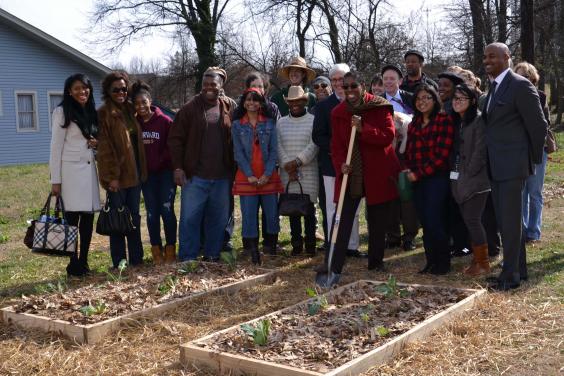 In Atlanta, one of the many places staff at the Fulton County Department of Health and Wellness looked to improve health was in their own backyard. 
For years, a group of older, vagrant men loitered in an empty lot near the health department, but were completely disconnected from it and the services it offered especially for this vulnerable population—such as health screenings, smoking cessation assistance, and drug and alcohol treatment programs. Seeing this as a missed opportunity, the department's Health Promotion Program Manager Nazeera Dawood led her team outside one day and engaged the men. 
"At first they were suspicious of me," said Dawood, whose first challenge was to earn the group's trust. "They asked if I was from the government, and I said cheerfully, 'No, I'm from the health department.'" 
Now the group, which endearingly calls itself "the old gangsters" (OG), are not only benefitting from the health department's services, they are empowered advocates for improving the health of their community. The men have a seat at the table with their local health commissioner and many of them have become active members of a diverse coalition to reduce the health and financial burden of chronic diseases in Fulton County, which ranked 26 out of 156 counties in the 2012 County Health Rankings.  
In fact, it is the vision of the OGs with support from the coalition that is transforming their once-vacant lot into a community garden that will be a source of food and pride for the entire neighborhood. 
The Joan Garner Make-a-Wish Garden—named for the Fulton County Commissioner who helped secure the garden plot in Atlanta's Old Fourth Ward—broke ground on January 21, 2013. Since then, a vibrant community garden team has received a grant from the Love Your Block Mayor's initiative and is working with a landscape architect to develop a dynamic plan to develop the garden. It will bear its first harvest this spring/summer, improving local residents' access to healthy foods and helping to reduce Atlanta's high rates of diabetes, obesity and heart disease.  
"Our vision was formulated using the County Health Rankings as our baseline," said Dawood. "We want to be the healthiest county in Georgia. This means getting into the streets, connecting the dots, and empowering the community to take charge."