Culture of Health Prize Ignites Collaboration between Communities Tackling Complex Issues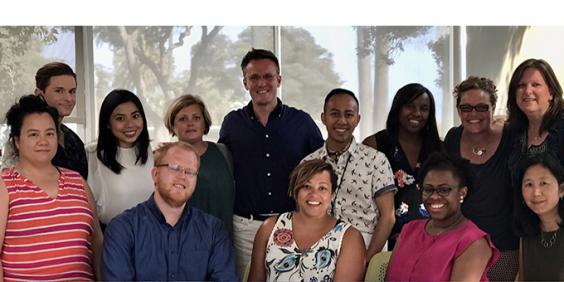 From a distance, Louisville, Kentucky, and Santa Monica, California, don't appear to have much in common. One is known for Derby while the other evokes images of beachside fun in the sun. However, when they connected through Robert Wood Johnson Foundation's Culture of Health Prize Alumni Network, they found more common ground than expected. Both cities are in periods of significant change, striving to maintain the authenticity that makes each community unique, ensuring equity for the most vulnerable, and creating new models for wellbeing and civic engagement.
"People depend on the help we provide and services we fund on a daily basis – especially those who are most vulnerable. We know we need to do things differently in order to remain responsive and effective, but may not have the resources or leeway to change course," said Julie Rusk, chief civic wellbeing officer of the City of Santa Monica. "This is why connecting with peers from other communities can be so valuable. We benefit from their lessons learned and apply tested strategies. In exchange, we can share our own lessons learned."
Recently, the cross-sector teams from each city came together for a learning exchange. They shared innovative approaches to understanding and addressing critical threats to the social, economic, and environmental health of the communities they serve.
"For our team and partners, it has been extremely helpful to step outside of our own work and community for inspiration," said Josh Miller, COO and co-founder of IDEAS xLab.
Miller's sentiment was echoed by Louisville Center for Health Equity Director Dr. Brandy Kelly-Pryor, "Working in one's own community can become myopic and stagnant. We grow and thrive – sharing resources both tangible and not – when we are involved in this type of exchange."
Over the course of three days, common themes emerged between the two communities: a lack of civic trust, a demand for increased transparency, and a shared desire to make government more accessible and responsive to the needs of all people. Conversations surfaced big picture questions, like:
How might we harness the combined power of culture and data to drive actions that improve community-wide wellbeing?
How might public institutions rethink the way they work with community members to co-create culturally-responsive, effective, and sustainable solutions?
As representatives from these two cities considered the intersection of culture, data, and social impact entrepreneurship, they challenged each other to think expansively and found shared values and valuable lessons.
"Experiencing the issues and solutions firsthand adds genuine understanding and urgency – opening the door to empathy and ideas that wouldn't be possible otherwise," said Rusk.
Culture & Health 
Our days begin and end with stories. This message, found on a mural by artist Brendan Fernandes at the 18th Street Arts Center in Santa Monica, struck a profound chord that tied the visit together. Stories – rooted in culture – bring forward traditions, shape values, and bring together groups of people whose health and wellbeing are inextricably tied to the fabric of the community in which they live. In other words, health is culturally created.
"Culture is where policies begin and results are measured", said Theo Edmonds, chief imaginator and co-founder at IDEAS xLab. "And it is here that we are building a new and healthier future."
Providing paths for people to share, learn, and build respect for each other's culture is an essential element of a strong, resilient community. This came to life at Virginia Avenue Park in Santa Monica, where the city actively cultivates a cultural hub through which park and library staff and residents co-create programs and events that matter to them. This empowers people to take actions with a positive impact on individual and community health and wellbeing. This is also the unifying principle of IDEAS xLab's Project HEAL, a three-year initiative that employs arts and culture as a community-wide health improvement strategy. "Through Project HEAL, we are looking at ways that artists can increase civic engagement toward policy change and expand opportunities for upward mobility. By integrating tools like Health Impact Assessments and the Wellbeing Index framework with arts and culture interventions and strategies, we are creating a new blueprint for just, creative, and healthy communities."
Data & Meaning 
Data has tremendous power to drive change. Finding data is easy. Unlocking its potential is the challenge. It must be consistent and set in a context that adds meaning, and that meaning must be communicated in a way that is easy to understand. Both Louisville and Santa Monica have invested in groundbreaking efforts to use data to guide strategies with positive impact on people's lives. In Louisville, this includes the Center for Health Equity's Health Equity Report and Greater Louisville Project's Multidimensional Poverty Report. In Santa Monica, this includes the City's Wellbeing Index, a data-driven innovation tool that examines the health and strength of the community at multiple levels by looking at indicators grouped into six areas: community, place & planet, learning, health, economic opportunity, and outlook. "This work," says Lisa Parson, project manager for the Office of Civic Wellbeing, "is about putting people front and center in policymaking."
Louisville and Santa Monica are well on the path to making the most of opportunities available through the Culture of Health Prize Alumni Network.
"This network has allowed for us to think about the innovative new strategies of collecting data and doing analysis," said Kelly-Pryor. "But, more importantly, it has reminded us about the importance of working with and growing from our community partners that make each of our communities unique."