With HIA, Curry County, OR brings manufactured housing up to par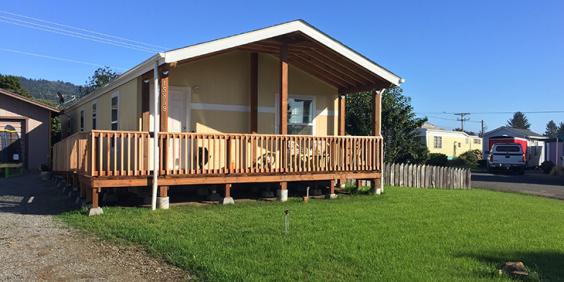 To address substandard manufactured housing and improve housing-related health outcomes, Curry County, OR conducted a Health Impact Assessment (HIA) and, ultimately, implemented a local housing rehabilitation loan and grant program paired with a targeted Community Development Block Grant (CDBG) housing rehabilitation program. Located along the southern coast of Oregon, Curry County's residents are no strangers to wet weather. However, those living in manufactured homes (formerly called mobile homes) are particularly susceptible to the damp, rot, and mold which affects homes without adequate roofs, pipes, and insulation. Many residents of manufactured homes suffer from respiratory conditions and injuries that stem from poor housing conditions and are often not eligible for state and federal funds that could help support repairs.
Curry County officials, the Oregon Health Authority, Upstream Public Health, NeighborWorks Umpqua, and other partners conducted a HIA to identify housing-related challenges and consider possible solutions that would improve housing and support community development. Through the HIA process, the team identified four main health challenges: respiratory problems, tripping hazards, lack of accessibility for the disabled or elderly, and inadequate, expensive, or dangerous heating methods. To address these challenges, the team developed the Housing Stock Upgrade Initiative (HSUI), which provides lower-cost real estate loans and funding to repair or replace manufactured homes. HSUI also collaborated with manufactured housing builders, who now design homes that stand up to the challenging climate, address the health and safety needs of residents, and allow older residents to age in place.
Today, HSUI is also working on a pilot program to make state and federal housing subsidies available to repair or replace manufactured homes. An innovative CDBG program that provides grants to owners of manufactured homes is a key piece of this effort. With support from local partners, HSUI has initiated the ReHome program, a $400,000 rehabilitation project that will repair roofs, replace plumbing, abate mold and mildew, repair HVAC systems, and otherwise improve manufactured homes in Curry County.
To learn more about this effort, visit the Pew Charitable Trusts' video and summary of the program. To connect with Curry County's Housing Stock Upgrade Initiative, contact Arthur Chaput, the Director of Housing Rehabilitation at NeighborWorks Umpqua, [email protected]. A webinar about this community's actions and the connection between housing and health is available here.
Communities in Action provide examples of strategies or tools in action. Their purpose is to connect like-minded communities in their implementation efforts, giving insight into how others are tackling key challenges and what they've accomplished. To learn more about the evidence supporting this strategy's effectiveness or resources to help move towards implementation, see the What Works for Health summary of Housing rehabilitation loan and grant programs and Community Development Block Grants (CDBG).
Date added: April 18, 2016