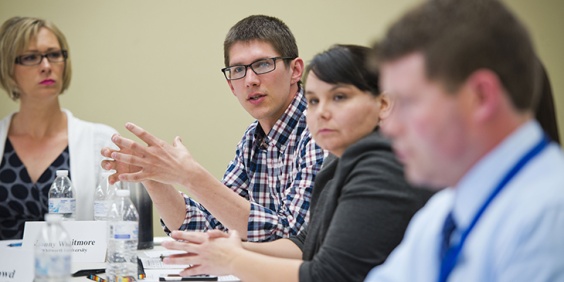 Priority Spokane, Spokane Public Schools (SPS), and their partners joined together to form a Community Attendance Support Team (CAST) for each of the six SPS middle schools. CASTs focus on students in grades 7 and 8 who have four unexcused absences, and use a supportive intervention approach to try to resolve the student's attendance problem. The CAST meeting includes the student and their parent(s)/guardian(s), school counselors, the assistant principal, and representatives from community organizations. During the meeting, CAST members ask thoughtful questions to unearth the root causes of the student's attendance issue. The intended outcome is an individualized plan of supports for the student and family.
The project grew out of data that showed that middle school students with four or more unexcused absences had only a 23-35% chance of graduating from high school. It's based on a model used by another school district that targeted truant high school students, but has its own nuances. The project schedules 45-minute meetings rather than the original model's 15-minute sessions, for example, to allow more time to get at the challenging issues that are often at the root of truancy.
The CAST coordinator is an integral member of this type of program. Joan Poirier, the past coordinator, has extensive experience with the school district and is a respected voice within the school community.  
As coordinator, Poirier met with school counselors, principals, assistant principals, and attendance secretaries early on. "We wanted to make sure that schools really understood that this was about providing a supportive intervention prior to discipline," Poirier said. She also met with dozens of community organizations, such as the Boys & Girls Clubs, Big Brothers/Big Sisters, and Youth for Christ. The response from the community was overwhelmingly positive. "In truth, everyone jumped at the opportunity," she said.
Once the CAST teams were in place, the biggest challenge was getting families to participate in the CAST meetings. "By definition, these families are dealing with a lot of issues," Poirier said. "Even getting a letter to them can be a challenge, and sometimes we can't reach the family by phone. We have to be very diligent about reaching people, but if we can get them to the meeting, the result is almost always positive."  
The power of the project is what happens in the CAST meeting, and it is that experience that keeps the project partners involved. "You have that moment in the CAST meeting when you realize that what you're doing could change a student's life," Poirier said. "You feel honored to be at that table, and that's what keeps everyone coming back."  
An evaluation from Washington State University indicates that 57% of high-risk youth participating in CAST have improved attendance following the intervention or inspired additional engagement from their school before court involvement.
To reach Ryan Oelrich, Executive Director of Priority Spokane, email [email protected] To learn more about the group's work boosting graduation rates and its current focus on addressing mental health problems and homelessness among youth, visit www.PrioritySpokane.org .
Priority Spokane is a 2014 RWJF Culture of Health Prize winner. To see a video about their work, visit this page.
Communities in Action provide examples of strategies or tools in action. Their purpose is to connect like-minded communities in their implementation efforts, giving insight into how others are tackling key challenges and what they've accomplished. To learn more about the evidence supporting this strategy's effectiveness or resources to help move towards implementation, see the What Works for Health summary of Targeted truancy interventions.
Date added: October 15, 2015