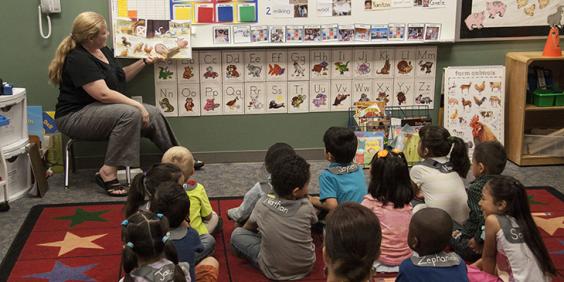 When a model preschool program in Utah's Salt Lake County showed early results—improving kindergarten readiness and grade school performance—United Way of Salt Lake (UWSL) and community partner Voices for Utah Children took notice. Inspired by what they saw, the two groups took action to expand the comprehensive, high-quality early learning program across sectors, and put thousands of children on a path for a better future.
Early data from independent evaluations of the Granite District Preschool Program for three- and four-year-olds demonstrated impressive results for increased kindergarten readiness. "Testing was identifying that 25 to 30% of kids entering the program were two standard deviations below the mean, indicating that they were predicted with high confidence to end up in special education," Bill Crim, Chief Executive Officer of UWSL, explained. However, data from the Granite District program's post-preschool testing showed that very few of the kids were predicted to need special education as they departed the program for kindergarten and elementary school.
The Granite District Preschool Program had several unique features, including an integrated independent evaluation tool that regularly assessed student performance. Despite the program's promising results, there was a data barrier to fully understanding its potential. "We didn't know what actually happened to these kids down the road," Crim said. "We had to look at how to connect the independent data to the school data for these kids."
To address this challenge, UWSL and Voices for Utah Children invested staff time and resources to analyze the school performance of children from the Granite program's first cohort, who were in 3rd grade at the time. "[Our analysis] told us that the first cohort [of students] was overwhelmingly performing as if they were an 'average' set of Utah students," Crim said, which he noted was better than expected based on early testing indicators. "The data paints this really stark picture of how much money you can save by investing in quality early education up front."
With data to prove that the model was working, the two organizations forged a partnership with the Granite District Preschool Program and set out to try to reach each child in the community. "We knew we couldn't just scale one program," Crim explained. "Instead, we looked at where the kids are and what kind of early education they are getting. Then we put a two-pronged plan in place: grow the Granite District program plus improve the quality of every other early learning setting that exists." A centerpiece to both these strategies is a data-sharing agreement among the programs and the school district that allows for real- and rapid-time sharing supported by permanent staff.
Voices for Utah Children led the effort to identify other childcare providers and preschool settings and worked with them to implement the Granite District Preschool Program model. "While we haven't reached every kid yet, we're on a path to where that's possible," Crim said.
He attributes the program's success to several factors: people working together, specifically through the presence of a strong model; the rigorous application of collective impact principles; data to guide and evaluate progress; and facilitators to move the community change effort successfully beyond one program.
"The assumption should always be that there's something to build upon," Crim said. "It's about finding the right spot in the community to work in a collaborative way and asking how do we take this practice and spread it."
To reach Bill Crim, email [email protected]. To learn more about UWSL, visit http://www.uw.org/.
Communities in Action provide examples of strategies or tools in action. Their purpose is to connect like-minded communities in their implementation efforts, giving insight into how others are tackling key challenges and what they've accomplished. To learn more about the evidence supporting this strategy's effectiveness or resources to help move towards implementation, see the What Works for Health summary of Preschool education programs.
Date added: July 27, 2015