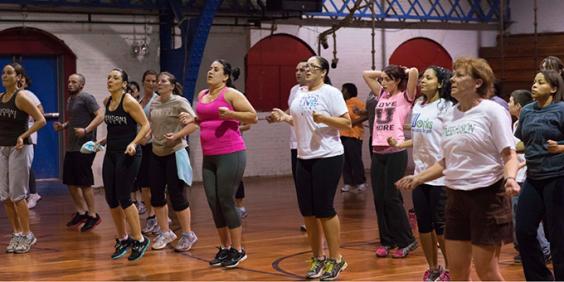 Nestled along the eastern shore of Mount Hope Bay in Bristol County, Fall River, MA, was a mill town for about 150 years. As recently as half a century ago, families who called it home knew the mills would provide steady employment. That changed when the economy changed, and many of the biggest mills closed down. Today about a quarter of residents live in poverty and the unemployment rate is around 9 percent.
"The health of this community is very much reflective of the economy here," said David Weed, Coordinator of the Healthy City Fall River Initiative from the Greater Fall River Partners for a Healthier Community organization. "When people work stressful jobs, have difficulty acquiring information about things that can keep them healthy, and lack good transportation, it's difficult to maintain a healthy lifestyle."
While the HealthFirst Family Care Center has been a part of the community for more than 40 years,   federal aid helped to expand both its structure and its mission in 2010. The new facility is five times larger than the one it replaced, but still located in the heart of the town and still serving low-income residents. Since transportation is a challenge in Fall River, the revitalized facility concentrates a wide variety of resources in one place so that families — particularly young mothers and their children — can see several providers during a single visit.
"We're set up so that people can essentially get one stop shopping here and not have to travel to different parts of the city," said Weed. "We have a pharmacy, our local hospital offers rehabilitative services here and we have a WIC (Women, Infants and Children) Program that operates in the same building. So it means that families, particularly young mothers and their children, can come here and see several providers all in one visit."
Another success has been the Greater Fall River Fitness Challenge, held every January for the past five years to encourage active lifestyles and help prevent diabetes. Participants pledge to collectively lose more than a ton of weight (2,000 pounds) and, in return, gain access to programs and fitness centers throughout the city for little or no cost.
Young people in Fall River have also taken on the challenge of creating a healthier community. A few years ago teens pressured the city council to pass an ordinance banning cigarettes from the town's pharmacies—now they're working to address other health issues like prescription drug abuse, bullying, and street violence.
"One of the things that we've been able to do here is bring together a coalition that doesn't look at just one problem, but looks at the whole plethora of problems—be it poverty, lack of education, lack of community support, good housing, a job," said Wendy Garf-Lipp, former chairperson of Partners for a Healthier Community.
"When I see youth who have worked with us when they were in high school, go on to college and then choose to come back to Fall River to make a difference—that's something that gives me lots and lots of hope," Garf-Lipp said.
Fall River was among six communities to receive the inaugural RWJF Roadmaps to Health Prize in February 2012. The prize was launched to further the work of the County Healthy Rankings & Roadmaps program, which aims to educate the public and policy-makers on the multiple factors that influence community health—such as education, economic conditions, and the physical environment—and to provide solutions that will improve community health. To learn more about the prize, click here.