Part I: Laying a Foundation for Addressing Obesity and Women's Health Issues in Clare County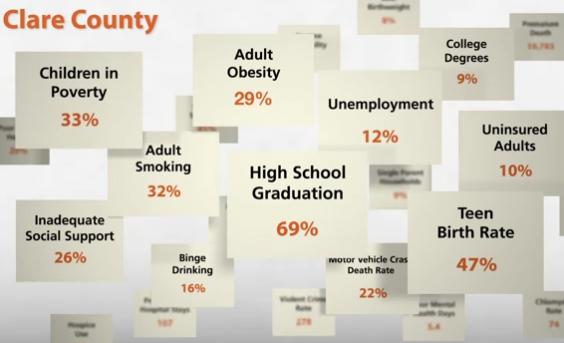 In Michigan, Health Director Mary Kushion seized Clare County's poor performance in the County Health Rankings as an opportunity to host a public health summit and begin generating ideas for improving the health of the six counties served by the Central Michigan District Health Department.
An unprecedented 110 people attended the first summit in March 2010 resulting in the creation of the "Together We Can" Health Improvement Council. The Council has met monthly since the 2010 summit, conducted community health assessments, distributed stakeholder surveys to identify community health challenges, and established Health Improvement Working Groups in four of the six surrounding counties. It now numbers about 138 members from across the six counties, several of which ranked low in the 2010 County Health Rankings.
Kushion says the generous support of several community partners has laid a strong foundation for future health improvements. These partners have contributed everything from in-kind meeting space, interns and technical support to assistance writing grants and policy recommendations. Some partners have also sponsored community health programs and events.
For example, the City of Clare in Clare County held an individual weight-loss competition called the Shamrock Shrink-down, providing participants with a public weigh-in, a free health screening and access to reduced gym memberships. Researchers from Central Michigan University helped identify women's health as a priority area for development and colleagues at the university have helped the Council submit rural health planning and NIH grants, in addition to developing conference abstracts and a SharePoint team room for continued collaboration. Local hospitals made modest contributions to fund management of the community working groups, and one local hospital has offered to start an adult obesity program and to investigate access to low-cost health clinics.
"No one in this community wants to be labeled as last or the worst," Kushion said.
"Everyone is taking it to heart—No one has ever turned me down for help."
In its first year, the initiative won the 2010 Michigan Department of Community Health's Director's Award for its collaboration.
Plans are already underway for a second Public Health Summit on April 14, 2011, where participants will discuss problems that cut across all six counties and develop a district health improvement plan based on recommendations from the county working groups and other resources.
Major health issues that have already emerged include women's health; nutrition, weight and physical activity; abusive and violent behavior; access to health services; and substance abuse.
At the summit, participants will have the opportunity to visit stations hosted by the various working groups and fill out surveys indicating how they can support health improvement efforts in the coming year. A final plan was distributed to supporters for implementation.
"We didn't create the health problems in a year, we certainly aren't going to resolve them in a year," Kushion said. "But if good will and commitment to doing better counts, there will be an improvement in our ranking over the next couple of years."
Read Part II: Moving into Action in Clare County/Central Michigan