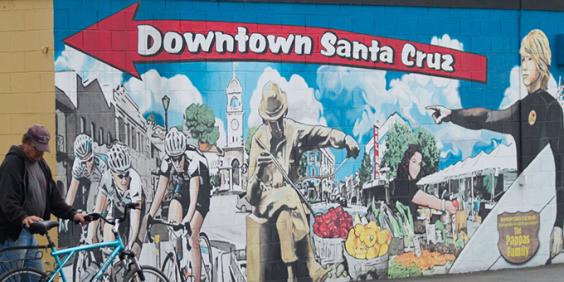 In the southern end of California's Santa Cruz County—a mostly wealthy county that ranked 10 out of 56 counties in California in the 2012 County Health Rankings—are the fields that produce food eaten at dinner tables and restaurants around the country. But the men and women who work those fields don't often get to enjoy the fruits (or vegetables) of their labor.
"When you have people who are making lower wages, they're spending more of their income on their housing, leaving less for other necessities in life," said Mary Lou Goeke, Executive Director of United Way of Santa Cruz County. "So what do people do without? They do without healthy food. They do without opportunities to exercise. They do without visiting doctors when they need care."
In Santa Cruz County, these and other community challenges are being met by a diverse coalition of cross-sector partners working to improve the health of all residents. Every step Santa Cruz County partners take is data driven. And the "North Star" that guides the quality of life mission is the Community Assessment Project. The annual publication details the goals the community wants to achieve while benchmarking where it stands on indicators such as air quality, unemployment, high school graduation, and crime rates. Then, in response, the community develops innovative solutions like the Custody Alternatives Program.
As part of a partnership between law enforcement and the community, the Custody Alternatives Program lets some people who have committed minor offenses be rehabilitated in their own communities in a way that is both cost-effective and successful. This alternative-to-incarceration program provides education, employment, treatment, and social services to get people's lives back on track.
Many of Santa Cruz County's health efforts concentrate on the service and engagement of young people. 
There were about 5,000 uninsured children in the county when the Healthy Kids of Santa Cruz program began. Today, several years later, more than 23,000 have been insured and nearly every child age five and below is insured, thanks to a collection of partners that help families access new and existing insurance options.
Additionally, a youth-led prevention initiative called Jόvenes SANOS spurred the approval of an ordinance that requires new restaurants to offer and highlight healthy options. They've also been working to bring healthy vending machine options to the county's metro stations.
"We have built relationships across different fields and sectors with a common goal and a common vision for health in our community, and that is a sort of a 'cradle-to-grave' equity-based vision where everyone has an opportunity to access good health," said Megan Joseph, Director of Community Organizing at the United Way of Santa Cruz County. "That is a very special thing about Santa Cruz County."
Santa Cruz was among six communities to receive the inaugural RWJF Roadmaps to Health Prize in February 2012. The prize was launched to further the work of the County Healthy Rankings & Roadmaps program, which aims to educate the public and policy-makers on the multiple factors that influence community health—such as education, economic conditions, and the physical environment—and to provide solutions that will improve community health. To learn more about the prize, click here.