In San Bernardino, CA, County Health Department Takes Lead to Improve Area's Poor Health Ranking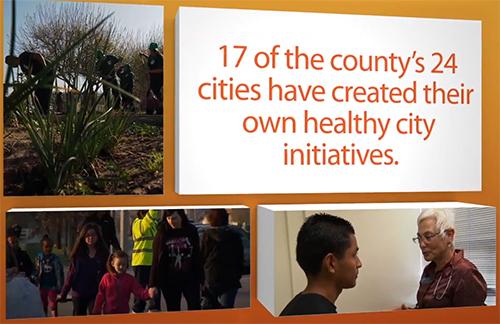 The 2011 County Health Rankings ranked San Bernardino County—which spans more than 20,000 square miles and a population of more than 2 million—50th out of 56 California counties in health factors like physical environment, social and economic factors, health behaviors and clinical care. The city of San Bernardino alone faces significant public health challenges, with a lower life expectancy, a higher homicide rate, and fewer parks and healthy food options than the rest of the state. Many other communities throughout the county share similar challenges associated with the county's high poverty and unemployment levels, and its vast geography makes it difficult for many residents to reach centralized services. 
But initial disappointment over its low ranking didn't prevent the San Bernardino County Health Department from seeing the County Health Rankings as an opportunity to strengthen its current health improvement initiatives and persuade policymakers of the need for change. In fact, by clearly showing where the county ranks on various health measures, the Rankings have helped inform the health department's six-year drive to get every community in the county to launch a Healthy Communities initiative aimed at ensuring that all residents have the opportunity to live a healthy life.
"The County Health Rankings are a terrific tool for us to take to policymakers because we can show that the status quo isn't sufficient," said Evelyn Trevino, program coordinator for San Bernardino County Healthy Communities. "It motivates support and action. We use it to get the message out."
To date, 17 of the county's 24 jurisdictions are at some stage of implementing a Healthy City initiative locally. Three partner cities have updated their general plans to include health as a guiding principle. Others have enacted healthy city resolutions; changed zoning policies to allow community gardens and farmers markets to flourish; improved safe routes to schools and campus vending machine standards; and established after-school programs, walking clubs and cooking classes for local residents. 
The health department jump starts this engagement by offering $100,000 annually in seed grants to communities that want to join the effort. Among this year's four grant recipients is a small group of unincorporated mountain towns that applied together through a local non-profit to create new and more attractive places for walking, biking and playing. Although many children ride buses to school, getting safely to and from bus stops is an issue. A Safe Routes to School program addressing the unique needs in these mountain communities could greatly impact the safety of children and drivers.
"City and county leaders have accepted the challenge to improve the county's health ranking," Trevino said. "The movement in San Bernardino County for cities to become partners in community health is amazing and inspiring. Thanks to the tremendous political will for creating healthier environments and choices for our residents, I am very hopeful that we will see our ranking improve."