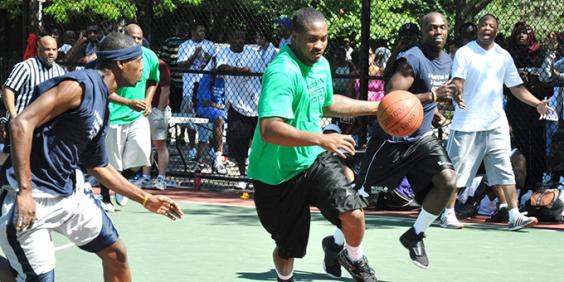 Best known for its world-renowned universities, Cambridge, MA, is also a city that faces challenges like obesity and school readiness. Located in Middlesex County, which ranked third out of 14 counties in Massachusetts in the 2012 County Health Rankings, Cambridge is a diverse community committed to working together to improve the health and well-being of all residents, of whom a quarter are foreign-born, a third are non-white, and 15 percent live in poverty. 
"Cambridge is really a two-city city," said Ellen Semonoff, assistant city manager for Human Service Programs for the City of Cambridge.
Semonoff's ultimate goal for a healthier Cambridge is that a child born in one of the city's housing developments has access to the same opportunities to lead a healthy and successful life as a child born in one of the city's more affluent homes—especially in a city of so many resources.
The Cambridge Public Health Department is the second largest health departments in the state. Its position as part of the Cambridge Health Alliance, a healthcare system with three hospital campuses and an extensive primary care network, gives it the unique ability to fully integrate the provision of public health with related community health efforts, fostering a "culture of collaboration."
"Our core functions—gathering data, leveraging services, designing policies that work—allow us to not only be a part of the architecture of the Cambridge Health Alliance, but also to leverage resources with some of our partners, say with public safety, or emergency preparedness," said Claude-Alix Jacob, the Chief Public Health Officer for the city. "So a lot of our planning efforts are tied into partnerships with the fire department and the police department. A lot of our activities on the wellness promotion side tie in with human services and community development."
The result is an integrated effort to improve health through a variety of services—literacy ambassadors help kids from all backgrounds come to school ready to learn; public schools offer innovative physical education classes (like ballroom dancing) and healthy meals that celebrate cultural diversity; school-based health services treat the "whole child;" and an effort by the Men's Health League addresses heart disease and type 2 diabetes among men of color.
"If there's one thing we've learned in the City of Cambridge it's that there is no one entity that can solve any particular problem," Semonoff said. "When you take the expertise of the health department and you join that expertise with the community agencies and the human services department and the police department—if we join these efforts together, we have a much greater opportunity to actually have impact."
Cambridge was among six communities to receive the inaugural RWJF Roadmaps to Health Prize in February 2012. The prize was launched to further the work of the County Healthy Rankings & Roadmaps program, which aims to educate the public and policy-makers on the multiple factors that influence community health—such as education, economic conditions, and the physical environment—and to provide solutions that will improve community health. To learn more about the prize, click
here
.