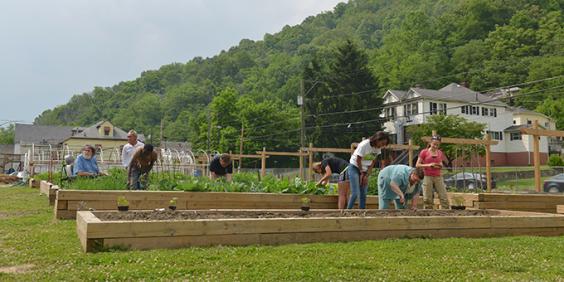 Two words not normally paired together – coal and sustainability – have been a driving force behind Williamson, West Virginia's mission to build a Culture of Health. Coal has brought prosperity to the town of Williamson for generations, but as the demand for coal declined, so did the economic wellbeing of Williamson's residents.  Determined to turn things around, community leaders began reimagining coal and other resources to build, support, and sustain a healthier Williamson community.  
"Coal has been such a large part of our community," said Dino Beckett, DO, CEO of the Williamson Health and Wellness Center and Board Chair of Williamson Redevelopment Authority. "We're very proud of that heritage, but we have to discover other opportunities so that we can still raise our families here."
Williamson leads West Virginia in categories such as obesity, hypertension, and diabetes—and that is in a state that usually ranks among the worst in those categories compared to the rest of the nation. Williamson community leaders are working hard to empower their residents to turn those rankings around—through a collaborative effort called Sustainable Williamson. 
Previously in Williamson, initiatives to improve housing, or access to healthy foods, or tourism, were all addressed separately and as independent projects. Now, through Sustainable Williamson, these distinct efforts have been brought together to create a shift from a culture of poverty to a Culture of Health. In a sense, Sustainable Williamson has found that sustainability is fundamentally about connections where economic prosperity comes down to a simple formula: connecting health and innovation generates wealth. 
In the spirit of ingenuity to create better health outcomes, The Health Innovation Hub offers local entrepreneurs the opportunity to present their ideas about new businesses and healthy enterprises to experts who provide strategic guidance on everything from designing a business plan to creating a marketing strategy to help them develop their plans in the community. 
"You have coal miners and engineers that can take items, reconstruct them, and build these massive pieces of equipment that can do amazing things," said Beckett. "Once they identify the disadvantages they have and we give them the tools, they're able to take control of their destiny and improve their health and wellbeing."
Another key element of Sustainable Williamson is the Community Garden, which is located right next to a low-income housing project. The community garden began with simply creating plots that were accessible to everyone in the community. Its central location meant people could easily walk to the site and take an active role to tend to their garden. The idea has since blossomed into 42 plots and neighbors are connecting with one another as they hone their gardening skills. Many residents are even selling what they've grown at the local farmers market. 
"The community garden has been a way to empower our residents to take a product that they've grown and use it to develop their skills as an entrepreneur," said Beckett. 
The Williamson Health and Wellness Center emerged during the economic downturn because of the increased number of residents in Williamson who became unemployed and didn't have health insurance. The clinic was created to provide quality health care for residents that would otherwise not be able to afford it. One priority of the clinic is to target the diabetes epidemic in Williamson. Staff at the Diabetes Coalition, including nurses and community health workers, reach out to high-risk patients with diabetes to address their needs and assist them with getting their diabetes under control. Patients who participate in this program experienced a drop in hemoglobin A1c levels (a measure of controlled blood sugars) by 2.2 percent. 
"That's huge," said Beckett. "If you were a drug manufacturer and you developed a drug that dropped [A1c levels] by just 0.6 percent, you would have a billion-dollar drug." 
Beckett says that he is very optimistic about the direction that Williamson is heading, but there are many obstacles to overcome. He believes if Williamson takes on those challenges daily, the community can address them and push forward.  
"Call it sustainability or call it market-driven development, the end result is always the same; by linking health and innovation we ensure the long-term resilience of our community."
Learn more about Williamson's efforts to improve health at RWJF.org.   
Watch a locally-produced video: Environment Matters.