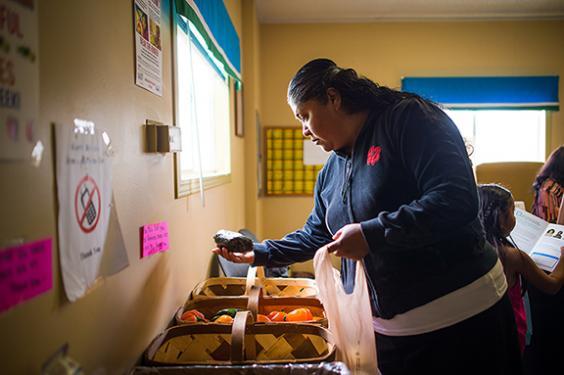 Nestled between the Blue Ridge and Appalachian Mountains is Buncombe County, North Carolina. A broad collaboration of community partners—representing more than 70 organizations and community members— have helped to put Buncombe on a path to long-term and sustainable change while also lifting up the most vulnerable in the community.
One strategy on this path to building a Culture of Health is Success Equation, an initiative of local nonprofit Children First/Communities in School (CF/CIS), which aims to reduce poverty's impact on county children. Their efforts have resulted in an advocacy win which spared western North Carolina counties a $1 million cut to childcare subsidies. In addition to advocacy efforts, CF/CIS manages the Family Resource Center at Emma Elementary School. This center improves the financial stability of families by providing emergency assistance, coupled with support to improve financial well-being. "The center at Emma Elementary School provides crisis support for families of children who live in that area. The elementary school has the highest free and reduced lunch rates in the county, so we know we have children who when they are away from school might very well go hungry," said Gibbie Harris, Buncombe County Health Director. The center provides support through a food pantry; clothing; emergency financial assistance for rent, utilities, and medical expenses, ongoing case management and other services. 
"The focus is not just on dealing with the crisis, but also on helping families get out of the crisis and into jobs and housing."
Buncombe County is committed to improving health for all and has focused services to improve health outcomes for Latino and African American residents. The health department provides a Community Navigator Program to help residents of a local subsidized housing complex, Pisgah View Apartments, access services such as food assistance and medical care. Through relationship building, programs, and skill development, the Pisgah View Community Navigator Program is having a tremendous impact on the community to improve health, safety and economic wellbeing. Pisgah View also has a learning center that's available to the children that live in the complex. "It provides a safe after school environment for them to get their homework done and receive tutoring," said Harris.  
Another component of building a Culture of Health is strengthening systems and partnerships to drive community efforts. In 2005, Buncombe County undertook a major restructuring in order to improve services, cut costs, and more effectively address the health needs of the community. Primary care services were migrated from the health department to a Federally Qualified Health Center and the Departments of Health, Social Work, and Economic Services merged into one, becoming a cutting edge model for health departments across the state and country. The Department also invited an array of community stakeholders from the YMCA of Western North Carolina, to the Asheville Area Chamber of Commerce and others, to form the Public Health Advisory Council (PHAC) which has led and supported a number of health improvement initiatives in the community.  "Through a systems approach, we have broken down the silos that traditionally exist in social change initiatives, and together we are strengthening our community," said Paul Vest, President and CEO of the YMCA of Western North Carolina.
Building a Culture of Health requires a focus across the many sectors that influence health. At the Verner Center for Early Learning, an early learning program serving rural Buncombe County that provides care for infants through preschool, staff integrates healthy eating with early childhood education. They have developed the Rainbow in My Tummy® program that serves meals from scratch with recipes that have been tested by a registered dietitian. "Thanks to Rainbow in My Tummy, we have 1-year-olds eating lima beans and squash casserole and eggplant," said Harris. "It's a whole curriculum that engages the entire school as well as the community, and makes healthy eating fun." The Rainbow in My Tummy program is being replicated in 12 other Buncombe County child care centers.
According to Harris, the community vision for a Culture of Health is one where everyone is healthy, active, eats well, has the opportunity to thrive and avoids tobacco. She emphasizes that it's important "that we have a system of health care that is not strapped by people who are constantly in crisis but a community that's focused on prevention and always looking to the future. I believe it is within reach".
Learn more about Buncombe's efforts to improve health at RWJF.org.