RWJF Culture of Health Prize
The RWJF Culture of Health Prize honors and elevates U.S. communities working at the forefront of advancing health, opportunity, and equity for all.
How Are Communities Building a Culture of Health?
The RWJF Culture of Health Prize recognizes communities that have come together around a commitment to health, opportunity, and equity through collaboration and inclusion, especially with historically marginalized populations and those facing the greatest barriers to good health. The Prize honors those communities that are working to give everyone the opportunity to live well, including residents that are often left behind. Building a Culture of Health is to follow these principles:
Defining health in the broadest possible terms...
means using comprehensive strategies to address the many things that contribute to health, opportunity, and equity in our communities. This criterion includes ways communities are acting across multiple areas that influence health, such as but not limited to the factors in the County Health Rankings model: health behaviors, clinical care, social and economic factors, and the physical environment. Communities are also encouraged to show how they respond to their local challenges and build on the strengths of their community. Given the importance of social and economic factors in influencing health outcomes, strategies addressing education, employment, income, family and social support, and community safety are considered crucial elements to achieving a Culture of Health.
Committing to sustainable systems changes and policy-oriented long-term solutions…
means making thoughtful, data-informed decisions that include a strategic mix of policy, programmatic, and systems changes designed to last. This criterion involves communities taking a strategic approach to problem-solving that recognizes the value of evidence and the promise of innovation. Communities are encouraged to demonstrate how residents, leaders, and organizations are collectively identifying priorities, addressing causes of problems, and taking coordinated action to implement solutions that have staying power.
Creating conditions that give everyone a fair and just opportunity to reach their best possible health…
means intentionally working to identify, reduce, and ultimately eliminate barriers that limit opportunity, in collaboration with those who are most directly impacted by local challenges. This criterion includes ways that communities value diverse perspectives and foster a sense of security, belonging, and trust among all residents. Communities are encouraged to demonstrate: 1) specific actions to remove obstacles to better health and increase the ability of residents who have been historically excluded from opportunities to fully participate in problem solving; and 2) examples of shared power and leadership with those traditionally absent from decision-making processes.
Harnessing the collective power of leaders, partners, and community members…
means that individuals and organizations across sectors and disciplines are all working together to provide everyone with the opportunity for better health. This criterion includes efforts to build diverse and robust partnerships across business, government, residents, and nonprofit organizations, and fostering inclusive civic engagement and leadership capacity among all community members. Communities are encouraged to demonstrate how they are: 1) inspiring people to take action to support change for better health; 2) developing methods for buy-in, decision-making, and coordinated action; 3) building a shared sense of accountability; and 4) continuously communicating about community improvement efforts.
Securing and making the most of available resources…
means adopting an enterprising spirit toward community improvement. This criterion includes efforts to critically examine existing and potential resources to maximize value, with a focus on leveraging existing assets; making equitable decisions about how to invest resources; and cultivating a strong belief that everyone in the community can be a force to improve the community so that all people can live their healthiest lives possible. Communities are encouraged to demonstrate how they are creatively approaching the generation, allocation, and alignment of diverse financial and non-financial resources to improve the community's health and well-being.
Measuring and sharing progress and results…
means beginning with the destination in mind and a commitment to measuring the quality and impact of coordinated efforts. This criterion includes collective efforts to: 1) establish shared goals across sectors and partners; 2) agree on definitions of success, with attention to reducing disparities; 3) identify measurable indicators of progress; and 4) continuously use data to improve processes, track outcomes, and change course when necessary. Communities are encouraged to demonstrate how they are developing systems for collecting and sharing information, determining impacts across efforts, and communicating and celebrating successes when goals are achieved.
RWJF Culture of Health Prize Winners
Image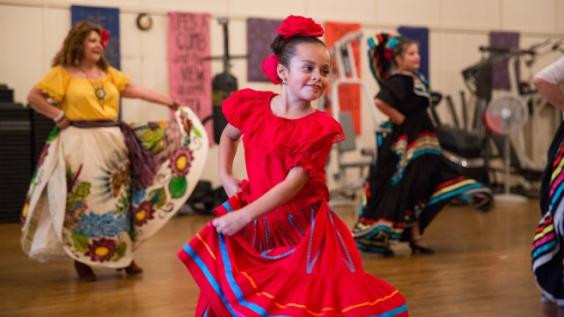 Meet the 2019 RWJF Culture of Health Prize Winners!
The Robert Wood Johnson Foundation has announced the 5 communities chosen as winners for the 2019 RWJF Culture of Health Prize on November 12, 2019. Explore how these communities are leading the way in building a Culture of Health for all their residents. 
The RWJF Culture of Health Prize is a collaboration between the Robert Wood Johnson Foundation and the University of Wisconsin Population Health Institute.
For more information on the RWJF Culture of Health Prize, please contact:
Carrie Carroll, Deputy Director, RWJF Culture of Health Prize
Email:info@cohprize.wisc.edu