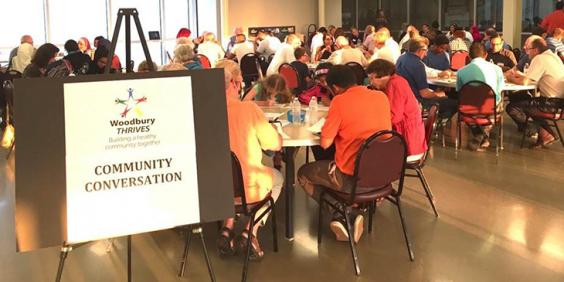 In 2016, a diverse group of Woodbury, MN partners formed "Woodbury Thrives" to address growing inequities in their suburban community of nearly 69,000. The group included partners from healthcare, public health, nonprofits, business, government, education, and philanthropy. One of their first tasks was to identify clear priorities for action. To do this, the group used a three-part process.
Part 1: Assessing Needs and Assets. Woodbury Thrives used two processes to bring community voices together with quantitative data. More than 350 residents participated in a series of "community conversations" that helped to identify what was important to people. Demographic and other descriptive data painted a picture of the population's assets and challenges.
Part 2: The "secret sauce." A team at HealthEast Care System created 8 "Issue Briefs" that described the priority needs that emerged from both the community conversations and the "hard data." The briefs brought the quantitative and qualitative data together to create a coherent picture. Each two-page Issue Brief highlighted relevant data and included a color-coded rating scale that provided a visual sense of the issue's magnitude, impact, seriousness, and community interest.
Part 3: Community members' selection. From there, a group of more than 50 demographically-diverse residents worked in small groups to further narrow their focus. Residents first voted on how easy it would be to work on each issue and the impact it would have on health. They used a Strategy Grid to visualize their votes. Each small group then selected their top two priorities. By the end of the process, they had selected three priority areas for action: Physical Inactivity & Obesity, Mental Health, and Social Connectedness & Inclusivity.
Their final step was for residents and partners to sign up for action teams. The action teams went on to examine root causes, choose effective strategies, and develop action plans.
Joan Pennington, Senior Director, Community Health, Policy & Measurement at HealthEast Care System, concluded, "At the end of the day the community and partners completely owned the process and the outcome. It was very inspiring to see the community come together to give voice to improving the health of the community."
Communities in Action provide examples of strategies or tools in action. Their purpose is to connect like-minded communities in their implementation efforts, giving insight into how others are tackling key challenges and what they've accomplished. To learn more about the evidence supporting this strategy's effectiveness or resources to help move towards implementation see the Action Step Key Activity Prepare to Prioritize.
Date added: August 29, 2017