Audio podcast program a win-win for students' learning and health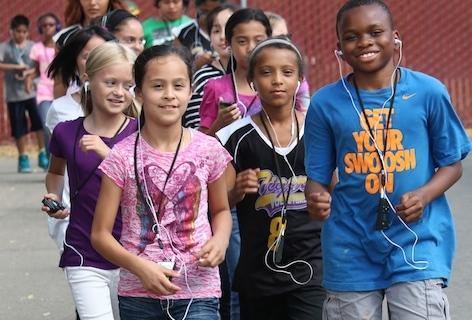 When fifth grade North Carolina teacher Laura Fenn faced the dual reality of dwindling P.E. and recess time and increasing pressure to maximize her classroom instruction, she got creative. Fenn developed The Walking Classroom to get her elementary school students up and moving without sacrificing their learning.  Five years later, the national award-winning nonprofit program is used around the country and takes students from their seats in a classroom to the fresh air beyond school doors; each student walks around while listening to the same podcast on a personal audio player (each audio player comes pre-loaded with more than 100 educational podcasts). The 15- to 20-minute podcasts—all of which align with national standards and are appropriate for kids in grades 3-8 — begin with a brief health literacy message and then move into a content area lesson. 
Not only does the program provide students with a change of scenery and the opportunity to move around while listening to the program's detailed, kid-friendly lessons, but teachers also report enhanced student academic performance and increased engagement and focus.  The benefits are not solely reserved for the children; the WalkKits and Teachers' Guides provide teachers with lesson plans, quizzes, and other tools to engage different learning styles, and the time outdoors allows them to exercise during the day, too. As of 2015, nearly 700 classrooms nationwide—300 in North Carolina alone— are getting out of the traditional classroom, popping in their earbuds, and pressing play.
To learn more about how The Walking Classroom works, visit the Rural Health Information Hub (RHIhub) summary of the project. To connect with The Walking Classroom Institute, contact Laura Fenn at (919) 240-7877 or [email protected].
Communities in Action provide examples of strategies or tools in action. Their purpose is to connect like-minded communities in their implementation efforts, giving insight into how others are tackling key challenges and what they've accomplished. To learn more about the evidence supporting this strategy's effectiveness or resources to help move towards implementation, see the What Works for Health summary of Physically active classrooms.
Date added: September 15, 2015