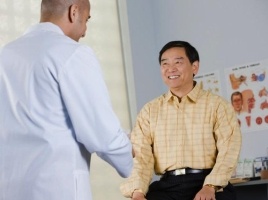 Access to Care
Access to affordable, quality health care is important to physical, social, and mental health. Health insurance helps individuals and families access needed primary care, specialists, and emergency care, but does not ensure access on its own—it is also necessary for providers to offer affordable care, be available to treat patients, and be in relatively close proximity to patients.
Why Is Access to Care Important to Health?
Together, health insurance, local care options, and a usual source of care help to ensure access to health care. Having access to care allows individuals to enter the health care system, find care easily and locally, pay for care, and get their health needs met. 
In 2016, 28 million Americans younger than age 65 were uninsured, nearly a 16 million decrease since 2013 [1]. The Affordable Care Act (ACA) is projected to extend coverage to some but not all of these people. The uninsured are much less likely to have primary care providers than the insured; they also receive less preventive care, dental care, chronic disease management, and behavioral health counseling. Those without insurance are often diagnosed at later, less treatable disease stages than those with insurance and, overall, have worse health outcomes, lower quality of life, and higher mortality rates [2]. 
Neighborhoods with low health insurance rates often have fewer providers, hospital beds and emergency resources than areas with higher rates. Even the insured have more difficulty getting care in these areas [3].
Nationally, many areas also lack sufficient providers to meet patient needs; as of 2017, there were about 6,900 primary care, 5,000 mental health, and 5,700 dental federally designated "Health Professional Shortage Areas" in the US [4]. Having a usual primary care provider is associated with a higher likelihood of appropriate care, and a usual source of care is associated with better health outcomes. In 2010, 86% of Americans had a usual source of care, but those with low incomes were less likely to than those with higher incomes, and the uninsured were twice as likely as the insured to lack a usual care source [2].
Cost can be a barrier to care even for those who have insurance. In 2009, 17% of people younger than 65 had premium and out of pocket costs totaling more than 10% of family income. Those with private, non-group insurance were three times as likely as those with employer-sponsored insurance to face such costs [2]. 
Adopting and implementing strategies that reduce barriers to care and better match providers to community needs can increase access to care, improving health and well-being.
References
[1] Kaiser Commission on Medicaid and the Uninsured. Key facts about the uninsured population. Henry J. Kaiser Family Foundation; November 2017. Fact sheet.
[2] Clancy C, Munier W, Brady J, et al. 2012 National healthcare quality report. Rockville, MD: Agency for Healthcare Research and Quality (AHRQ); 2013.
[3] Robert Wood Johnson Foundation (RWJF). What is the link between having health insurance and getting adequate health care? Princeton: Robert Wood Johnson Foundation (RWJF); August 2011. Health policy snapshot.
[4] US Department of Health and Human Services. Health Resources and Services Administration (HRSA). Shortage Areas. Last reviewed September 30, 2018. Accessed March 14, 2019. 
See how this component fits into our model

Loading interactive model…
Our Rankings show how healthy a community is as well as indicators for future health. This provides a starting point for action on improving health for all. Dig deeper into the measures below to learn more about our approaches to measuring health.
When it comes to developing and implementing solutions to problems that affect communities, evidence matters. The strategies below give some ideas of ways communities can harness evidence to make a difference locally. You can learn more about these and other strategies in What Works for Health, which summarizes and rates evidence for policies, programs, and systems changes.