The Search for the Director of the County Health Rankings & Roadmaps Program
DOWNLOAD FILE (pdf)
(2.85 MB)
The University of Wisconsin Population Health Institute (UWPHI) seeks an accomplished leader in community and population health to serve as the Director of County Health Rankings & Roadmaps (CHR&R), a nationally recognized collaboration between the Robert Wood Johnson Foundation (RWJF) and UWPHI.
CHR&R embodies the Institute's mission of translating research for policy and practice and has been instrumental in RWJF's vision to create a Culture of Health, where everyone has the opportunity to live a healthier life, no matter who we are, where we live, or how much money we make. We all benefit when everyone has a fair shot at access to good jobs with fair pay, good schools, affordable housing, safe neighborhoods and quality medical care. This is health equity – when we all have the basics to be as healthy as possible. Leading CHR&R into its second decade will provide a new director a unique opportunity to help shape the evolution of an influential, highly respected university-foundation collaboration and advance a national conversation about health outcomes and health equity with a growing network of national, state, and local partners across the country, including through national, regional and local media as well as other platforms.
The CHR&R program provides data, evidence, guidance, and examples to build awareness of the multiple factors that influence health and support community leaders working to improve health and increase health equity. The Rankings are unique in their ability to measure the health of nearly every county in all 50 states, and are complemented by guidance, tools, and resources (Roadmaps) designed to accelerate community learning and action. CHR&R is known for effectively translating and communicating complex data and evidence-based policy into accessible models, reports, and products that deepen the understanding of what makes communities healthy and inspires and supports improvement efforts.
Bascom Hall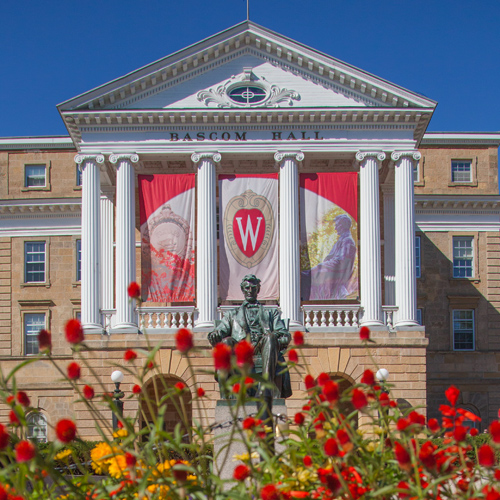 University of Wisconsin-Madison
UW-Madison ranks as one of the most prolific research universities in the world, driven by a desire to both explore new worlds and to apply new ideas to real-world problems. With more than $1 billion in annual research spending, UW-Madison has been in the Top 10 in national research spending every year since 1972. The University ranks #1 in the number of doctorates granted among US universities and eighth in overall patent production. The Wisconsin Idea, the principle that the University should improve people's lives beyond the classroom, has been guiding our efforts for more than a century. UW-Madison has been dedicated to studying poverty and social inequity for 50 years, is ranked #1 among large schools for producing Peace Corps volunteers, and boasts 19 Nobel Prize winners among our UW faculty and alumni.
The Population Health Institute is part of the School of Medicine and Public Health, closely aligned with the Department of Population Health Sciences. It enjoys collaborative relationships with other campus world class departments like Sociology, Economics and Public Affairs and related Institutes including the Institute for Research on Poverty, the Applied Demography Laboratory, the LaFollette Institute of Public Affairs, and the Nelson Institute of Environmental Studies. UWPHI advances health and well-being for all by developing and evaluating interventions and promoting evidence-based approaches to policy and practice at the local, state, and national levels. County Health Rankings & Roadmaps is the largest grant- funded program within UWPHI.
The Robert Wood Johnson Foundation
For more than 45 years the Robert Wood Johnson Foundation has worked to improve health and health care. We are working alongside others to build a national Culture of Health that provides everyone in America a fair and just opportunity for health and well-being. For more information, visit www.rwjf.org.
A Brief History of County Health Rankings & Roadmaps and its Collaboration with RWJF
In 2002, UWPHI developed a model for ranking the health of each county in Wisconsin and began publishing these rankings in annual reports. After six years of producing Wisconsin reports, RWJF and UWPHI discussed the possibility of developing rankings and reports for each of the 50 states. Thanks to an initial grant from RWJF to fund the effort and partnerships with numerous primary data collection organizations, UWPHI released the first Rankings for all states in 2009, which served as the foundation for the current national County Health Rankings. The program has been publishing the Rankings every year since, with 2019 marking the 10th annual Rankings release.
As interest in the Rankings grew, UWPHI and RWJF collaborated to develop the Roadmaps area of the program, beginning in 2012. This project focused on raising awareness of the multiple factors that influence health among a variety of national and local stakeholders and developing resources and tools for diverse stakeholders to use in moving from data to action (including a variety of online and virtual tools, such as national webinars and What Works for Health, a database of evidence-informed policies and programs.) Customized coaching soon followed. In addition, UWPHI and RWJF created the annual Roadmaps to Health Prize, which became the RWJF Culture of Health Prize, to cultivate examples of communities that are bringing partners together to give everyone the opportunity to live well, including residents that are often left behind.
After 10 years of innovation and leadership, UWPHI and RWJF continue to engage and equip national, state, and local leaders from many sectors in creating community change in line with the program's principles. UWPHI and RWJF also continue to evolve the program as it learns better ways to structure and deliver the program, in line with the program's theory of change, assessments and evaluations, feedback from the field and other learning, UWPHI's interests, and RWJF's evolving strategy.
How CHR&R is Building a Culture of Health, County by County
The County Health Rankings & Roadmaps program (CHR&R) provides data, evidence, guidance, and examples in order to build awareness of the multiple factors that influence health and accelerate learning and action of community leaders working to improve health and equity.
County Health Rankings
By ranking the health of nearly every county in the nation, the County Health Rankings help communities understand what influences the health of residents and identify challenges and opportunities to improve these outcomes for all. As the Rankings model to the right illustrates, health outcomes like how long and how well we live are shaped by a range of factors that are heavily influenced by where we live – including health behaviors, clinical care, physical environment, and social and environmental factors. They help communities understand the critical influence that education, jobs, income, environment, and more have on individual health and illuminate areas to focus improvement efforts. The Rankings use more than 30 measures that help communities understand how healthy their residents are today (health outcomes) and what will impact their health in the future (health factors).
CHR&R releases the Rankings every year in March, along with 50 state reports and a national Key Findings report that spotlight trends and opportunities related to key health factors and health disparities. This high-profile release garners substantive local and national media coverage each year, and media have come to rely on the release as a credible annual "checkup" on health both for its national trends and local data storytelling opportunities.
Take Action Cycle
Roadmaps
CHR&R offers many pathways for self-directed and peer learning - including web-based content and virtual interactive forums - that are designed to accelerate awareness, learning and action in communities in order to help build healthier communities and advance equity. Continuing to explore and test new ways to connect communities with evidence-based solutions and approaches to improve health and health equity will continue to be an important part of the program.
What Works for Health (WWFH) is an online tool that provides a menu of nearly 400 evidence- informed policies, programs, and systems changes that affect the factors we know make communities healthier. With evidence ratings, literature summaries, and implementation resources, WWFH has become a go-to resource for those seeking to identify and implement strategies that have been shown to make a difference and are a fit for local priorities.
The Action Center offers tools and information on the key steps communities can take to improve health and suggested ways to move from data to action.
Action Learning Guides provide topic-specific, self-paced learning and interactive activities for individuals and teams looking for guidance taking action to advance health and equity.
The Partner Center shows how we all have a role to play in creating healthier communities and provides guidance for working with different stakeholders.
National Webinars showcase promising approaches and real- world examples on a range of topics. Post-webinar discussion groups allow attendees to continue with an interactive conversation.
Peer-to-Peer Virtual Learning Series offer a way to directly connect with and seek guidance from others around the country and to discuss what works in communities. CHR&R collaborates with other partners and hosts peer-to- peer learning sessions throughout the year.
Major Responsibilities of the Position
The CHR&R Director will lead the development and implementation of all aspects of the CHR&R program, serve as the Principal Investigator of the RWJF grant, and represent CHR&R in regional and national forums, including serving as a highly visible spokesperson such as in national broadcast interviews or as a speaker at major conferences and convenings. Strategic visioning, collaboration, and alignment with RWJF are a significant lead responsibility of the CHR&R Director. In collaboration with the CHR&R deputy directors, the CHR&R Director has responsibility for the leadership, management, and accountability for three areas:
Data and Science (Rankings, What Works for Health, Rankings Research)
Community Transformation (Community Guidance, Network Strategy, Community Research)
Operations (Administration, Grant Management & Proposals, Technology, Communications)
The current two-year CHR&R grant budget is roughly $14.7 million and supports a staff of 30 with multiple subcontracts. RWJF has been the sole funder of the national CHR&R program since its inception, and, to date, has renewed its grants on a two-year cycle. The current grant is effective through September 2020. RWJF and UWPHI have begun to discuss the terms of the next renewal, which renewal term, subject to each party's internal approval processes, would be expected to begin following the expiration of the current award. The CHR&R Director will lead the development of all grant proposals.
In addition to being a program, CHR&R is also a unit within UWPHI. As a unit director, the CHR&R Director reports to the UWPHI Director, Sheri Johnson, Ph.D., and has responsibility for integrating CHR&R into other Institute work and service on the management team. The CHR&R Director will also contribute to research, evaluation, and implementation efforts in the field of community health, with a focus both on improving health outcomes and increasing health equity. A contribution to teaching programs in the UW School of Medicine and Public Health is an integral part of the CHR&R Director's role. In recognition, the CHR&R Director must meet the criteria for appointment as a professor or associate professor, in the tenure or CHS track, at the School of Medicine and Public Health. The primary appointment will be in a department that aligns most closely with the background and expertise of the incumbent, but most likely in the Department of Population Health Sciences. 
Opportunities for Leadership
Lead CHR&R's strategic visioning, collaboration, and alignment with RWJF.
Keep the program on the leading-edge of population health and health equity science, using data, evidence, guidance, and stories to inform and learn from changemakers at the local, state, regional, and national level. Strengthen the program's ability to improve on existing models.
Bring fresh eyes and expertise to the evolution of CHR&R.
For the Rankings, address the increasingly competitive population health data environment with greater emphasis on health equity and broad applications for national, state, and local stakeholders. As the frontiers of data science advance, ensure the academic respect, scientific rigor, and usefulness of the Rankings to communities. In the area of community learning and guidance, support and evaluate the transition from individual coaching to community relationships and network building, including CHR&R's role as a national platform.
Represent CHR&R in regional and national forums, including high visibility spokesperson roles.
As the Principal Investigator of a project with national visibility, the CHR&R director needs to be passionate about population health and equity, an effective storyteller, and fully informed on the data and science issues of the Rankings and a command of the tools and resources the program provides to inform, engage, and equip a range of stakeholders at national, state, and local levels.
Sustain and strengthen the collaboration between UWPHI and RWJF by setting a tone that fosters the ongoing creativity and innovation of the program and increases the impact of CHR&R on health and equity.
Be a responsive, flexible, innovative, and transparent partner who can continue to build trust and balance the priorities of the partners to serve the mission of the program and its contributions to building a Culture of Health.
Provide leadership to CHR&R staff to sustain teamwork across the program and ensure alignment between program priorities and staff capacity as the program evolves.
Sustain staff commitment to CHR&R's mission and to a demanding service- and results-oriented environment through effective two-way communications, a team approach to management, commitment to inclusion and diversity, provision of professional training, and career growth opportunities. As the administrative leader of CHR&R, ensure programmatic and financial accountability and oversee a two-year grant budget of nearly $15 M and a staff of 30 with multiple subcontracts.
Qualifications and Attributes of Leadership
The ideal candidate for the position of Director of CHR&R shall have more than 10 years of proven leadership and management in the field of population health or a related field. A PhD, MD, JD, DrPH or other related terminal Master's degree is required. The leadership accomplishments of the successful candidate should reflect a deep commitment to diversity both as an end in itself, but also as a valuable means for building health equity.
The next CHR&R Director will preferably have experience leading in complex settings marked by strong collaborations among multiple entities; programs with multiple stakeholders, components, and products; and staff with expertise in a range of fields. It is essential that the CHR&R Director have the expertise in community health or related fields, expertise in applied research and evaluation, experience in advancing systems change approaches, and interpersonal skills necessary to gain the respect of program partners and maintain the high standards of credibility and innovation for which the program is known. The new Director must have the communication skills and enthusiasm for engaging with national, state, and local partners across the nation as an effective spokesperson for the CHR&R program, including with the media.
The ideal candidate will have demonstrated excellence in the following:
Authentic understanding and commitment to community health and health equity and the Culture of Health vision
Data expertise sufficient to improve quality and innovation, and maintain credibility
Contributing to and/or advancing systems changes approaches to complex health or social problems
Strategic vision and leadership in science and practice
Success in leading a fast-paced, complex organization
Strong fiscal and human resources management experience including inclusion and diversity
Successful experience with grants and granting foundations
Excellent written and oral communications skills, media expertise, ability to speak about health equity with authenticity on national stages with diverse audiences
Savvy web and social media expertise that will expand the scale, reach, and impact of CHR&R
Success in building collaborative relationships and teams
Highly organized with the ability to manage multiple timelines simultaneously
Undisputed integrity and the capacity to build rapport, respect, and trust at all levels (staff, university colleagues, program partners)
The Application Process
The CHR&R Director Search Committee invites nominations and applications for this position until an appointment is made. Screening of applicants will begin in July and candidates are encouraged to submit materials by August 9, 2019 for the most favorable consideration. An appointment is anticipated in October, 2019, with a start date of November 1, 2019 or as soon as possible thereafter, depending on the commitments of the successful candidate.
The Search for a County Health Rankings & Roadmaps Director is being assisted by AGB Search in Washington, DC. Nominators and prospective candidates are encouraged to contact Judith Ward, Executive Search Consultant, in full confidence. For contact details, see AGB's page on the Search for the Director of County Health Rankings & Roadmaps.
Applications should include:
A letter of interest that responds to the "Opportunities for Leadership"and "Qualifications" Sections of this Search Profile
A complete resume or vita
The contact information (email and phone) for five professional references, none of whom will be contacted without the formal permission of the candidate
Applications should be submitted electronically (MS Word or Adobe PDF) to: David Kindig, MD, PhD, Chair, CHR&R Director Search Committee. For contact details, see AGB's page on the Search for the Director of County Health Rankings & Roadmaps.
Unless confidentiality is requested in writing, the names of applicants must be released upon request. Finalists cannot be guaranteed confidentiality. In the case where there are fewer than five finalists, the names of the five most qualified candidates must be released upon request.
The School of Medicine and Public Health has a deep and profound commitment to diversity both as an end in itself but, also as a valuable means for eliminating health disparities. As such, we strongly encourage applications from candidates who foster and promote the values of diversity and inclusion. Diversity is a source of strength, creativity, and innovation for UW-Madison. We value the contributions of each person and respect the profound ways their identity, culture, background, experience, status, abilities, and opinion enrich the university community. We commit ourselves to the pursuit of excellence in teaching, research, outreach, and diversity as inextricably linked goals. The University of Wisconsin-Madison fulfills its public mission by creating a welcoming and inclusive community for people from every background - people who as students, faculty, and staff serve Wisconsin and the world. For more information on diversity and inclusion on campus, please visit: https://diversity.wisc.edu/.